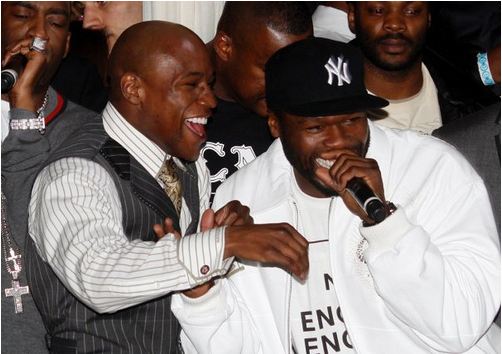 Floyd Mayweather and 50 Cent Pictures
By now, all fight fans know about not only the well-documented friendship between Floyd Mayweather and 50 Cent, but also their new boxing venture, TMT Promotions. Instead of more debate and speculation about what that all means, we're simply going to provide you with a photo gallery of Mayweather and 50 Cent pictures, doing what they do best — hanging out, generally with lots of money, or training hard in the boxing gym. Take a look.
The 50 Cent and Floyd Mayweather Photo Gallery
All images found on Floyd Mayweather's Twitter and/or Instragram account.
You can also view our special photo feature: The Flashy Lifestyle of Floyd Mayweather.
These guys definitely know how to have a good time, don't they? Of course, having a few extra tens of millions of dollars to throw around certainly helps their ability to do just that.
But 50 Cent and Floyd Mayweather go back over a decade together, and it's not something that's just for show or for the television crews. By all accounts they are as tight as can be with one another.
TMT Promotions has some huge potential to capitalize on their shared high profile and celebrity status, and it will be quite interesting to see how all of that plays out. But either way, enjoy all of our photos of Mayweather and 50 Cent, and check back with ProBoxing-Fans.com each and every day for more boxing news coverage.
Comments
comments