How would Mayweather hold up against the best welterweight boxers in history?
The welterweight division is one of the classic, glamour divisions in boxing's rich history, and the list of all-time greats who have plied their trade at 147 lbs is staggering. The list of the top 10 welterweight boxers of all-time also happens to represent many of the best fighters to lace up their gloves at any weight, fighting forces like Sugar Ray Robinson and Henry Armstrong.
Today, the best welterweight in the world is Floyd Mayweather Jr., and he's also the reigning number 1 pound for pound fighter as well. His place in history is fiercely debated, and will best be decided once his career is eventually done and over with, and we've had time to digest his accomplishments and shortcomings.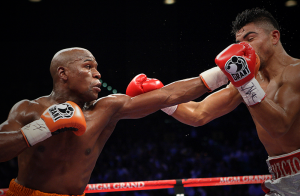 In the meantime, we're left with conjecture and the ever-popular fantasy fight. Therefore, one great question to ask is how he would hold up against the best welterweights in boxing history.
Mayweather is in brutally tough here, and making matters even more difficult for him is the fact that many of the all-timers at welterweight began their boxing careers at or around 147 lbs, eventually moving up to middleweight or beyond. Mayweather, on the other hand, began his journey through the professional ranks at 130 lbs. While he has dabbled up to 154 lbs, welterweight is essentially his limit.
Here's a case-by-case listing of Mayweather going up against the 10 best welterweights in boxing history, based on the recent best of list we have here at ProBoxing-Fans.com.
Sugar Ray Robinson: Widely regarded as the best pound for pound fighter of all-time, and ranked no lower than number 2 or 3 on any credible list, Sugar Ray Robinson was the ultimate fighting machine. At welterweight he was virtually invincible. Mayweather would be forced to be ultra-defensive, rendering a decision win improbable and a knockout win impossible, and all the while Sugar Ray would still be able to score with his smooth, diverse offensive attack. The question becomes, does Mayweather see the final bell? He does, but he accomplishes little throughout the duration of the fight.

Robinson wins via Unanimous Decision

.
Sugar Ray Leonard: Mayweather brings the superior defense into the ring with him, but SRL's offense was exponentially greater, more varied and more complete. Taller, stronger and rangier, Leonard was a true finisher and could change from boxer to stalker when necessary. If he got you hurt, you didn't get off the hook, and Mayweather wouldn't escape the same fate of guys like Tommy Hearns and Wilfred Benitez.

Leonard wins via TKO 13

.
Henry Armstrong: The ultimate division hopper of his day, Homicide Hank was undersized at welterweight. As fierce as his assault was, Mayweather has always put on his best performances against the most aggressive of opponents. With a reach advantage in his favor, Mayweather would welcome Armstrong's pressure, and would work primarily behind his lead counter right hand. Armstrong could change the fight at a moment's notice, and it would be tense in Mayweather's corner until the final bell, but styles make fights and Mayweather would do enough to score a points win – although leave the battle the worse for the wear of the two, no doubt.

Mayweather wins via Split Decision.
Thomas Hearns: Tommy Hearns is an absolute nightmare of a match-up for anybody at 147 lbs, Floyd Mayweather included. At a severe height and reach disadvantage, Mayweather would be forced to try to find a way into range. Without the power to keep Hearns honest, and without being able to lay back in a defensive posture, Mayweather would be in for it here. Of course, with Hearns' hand speed and technical boxing ability, Money Mayweather left with little recourse no matter how he chooses to fight. That booming cannon straight right down the pipe would be a matter of time.

Hearns wins via KO 9

.
Jose Napoles: Mayweather and Napoles were similarly sized, and I believe Mayweather was made out of the classier technical cloth . He's a world ahead of guys like Curtis Cokes or Hedgemon Lewis, for example, who were common foes for Napoles. As with most of the 147 lbers Mayweather would face on this list, he'd have to be wary of his opponent's superior arsenal, and he wouldn't be able to match his firepower. But he would able to dictate the fight and control the dynamics in the ring.

Mayweather wins via Unanimous Decision.
Kid Gavilan: The super smooth Cuban Hawk took on all comers and gave as good as he got, but he never had the aura of invincibility that some others on this list had. This fight would be heading to the scorecards, as Gavilan only had 28 KOs in his 108 wins and also was never stopped, despite his career devolving at the end as he eventually lost 30 bouts. If they fought a 5 fight series, I'd envision it going 3-2 with every fight likely being close. I take Mayweather's craft over Gavilan's flash.

Mayweather wins via Split Decision

.
Joe Walcott: I'd be lying if I professed a high level of intelligence on Barbados Joe Walcott and his fighting style. I know that at a listed 5'1.5″ and fighting in the 1890s-1900s, he'd have a whole mess of trouble with one of the most highly skilled, modern boxing technicians of all-time, who'd happen to tower over him by half a foot.

Mayweather wins via TKO10

.
Emile Griffith: Griffith was never unbeatable, and was prone to having off nights even in his prime. That's why, in part, he fought so many guys on two or three occasions, and he was a master of the rematch and finding an edge in a second or third go-round. Griffith would learn early that Mayweather wasn't going to hurt him, and he would open up accordingly. Mayweather would find himself covering up more than he'd like, perhaps surprised at Griffith's speed. The cleaner shots would be landed by Mayweather, but Griffith would put in more work and be on the attack more often than not. Sounds like a close, but disputed, verdict in his favor.

Griffith wins via Split Decision

.
Barney Ross: This is a case not only of styles making fights, but of eras making fighters. Ross was a classy boxer, and in fact helped usher in a new wave of technical fighting. He was also one of the sport's first three-division champions. However, Mayweather would bring superior hand speed, power and yes, modern technical boxing, into the ring with him. Ross wouldn't take a beating like he did against Homicide Hank in the final fight of his career – and even then, he didn't get stopped. Mayweather would run the show, but the always game Ross would never quit trying, making for a competitive contest. Mayweather wins via Unanimous Decision.
Mickey Walker: The list of guys that Walker faced is absurd, and as he moved up and challenged the best of his era in seemingly every division, he continued scoring big W's until the end. Walker, though, could be out-boxed, and even in his absolute prime, he lost title fights via decision. Mayweather would let him come in and pick him off, keeping him at bay with a body attack and his counter right. The stoppage win though? No chance. It took Max Schmeling 8 rounds to stop the guy.

Mayweather wins by Unanimous Decision.
Results: Mayweather vs. The Top 10 Best Welterweights
6 wins (five by decision, one by stoppage)
4 losses (two by stoppage, two by decision)
Agree or disagree with how Mayweather would fare against the top welterweights of all-time? Leave your thoughts below. Also, check out this column featuring Manny Pacquiao vs. the welterweight greats.