Who is Boxing's Next Number 1 Pound for Pound Fighter?
We all know that Floyd Mayweather and Manny Pacquiao won't be around forever. Whether it's another two fights apiece, or however many, the clock is ticking on the careers of both men. Their absence will leave a void at the top of the sport's pecking order, but there are many viable candidates ready to replace them, if given the right opportunities.
Here, we'll break down 5 boxers who will be vying to be the future pound for pound superstar of the sport: Nonito Donaire, Andre Ward, Yuriorkis Gamboa, Saul "Canelo" Alvarez, and Adrien Broner. Which man is most likely to reach the pinnacle, and which other fighters should we be keeping an eye on?
[Check out our current top 20 pound for pound list]
Combined win-loss record of these 5 boxers:

139 – 1 – 1, 96 knockouts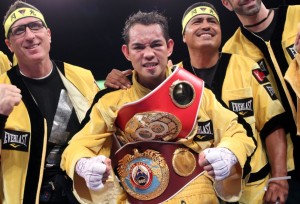 Nonito Donaire
Donaire already sits in the top 5 of the pound for pound list, and many individuals would have him in the top 3. He has titles in four divisions to his credit, and several landmark wins, all of which not only justify where he is today, but also makes it easy to elevate him further.
He's a dynamic fighter, with an amazingly smooth and efficient offensive attack and plenty of power to back it up. He can take a punch, although he hasn't had to take too many, and he has great athletic capabilities. If nothing else changes, he could simply wait out the three "old men" ahead of him (Pacquiao, Mayweather and Maravilla) and would be the number 2 guy by default.
Odds: 5/2 – Donaire has a fantastic chance at being the top gun in the sport. Already ranked in the top 5, he's a fun fighter to watch, with the backing of HBO and a legion of fans behind him as well. That matters for this stuff, too. But he'll need to not only continue moving up in weight, but also competing against the toughest guys out there. Jeffrey Mathebula won't cut it.
Andre Ward
Ward is coming off his spectacular Super Six stretch, and is now heading straight into another daunting challenge, a showdown against Chad Dawson. A win against Dawson further cements his status and elevates his ranking.
Big names, as well as vulnerable titleholders, are abundant in and around his division. Let's say Ward beats Dawson, moves up to 175 lbs and decisions Tavoris Cloud and Jean Pascal, or alternatively, defeats Dawson and meets Sergio Martinez. Some tough fights to get through, but he just may well emerge unscathed as the number 1 guy in the sport.
Odds: 4/1 – Ward has no problem taking on tough competition, and he simply keeps on winning. That works in his favor, however, his lack of one-punch knockout power, a Hollywood persona and a consistently fan-friendly style work against him, giving Donaire an easier path than he has. Like Bernard Hopkins before him, he can get to the number 1 position, but he's going to have to fight for it a little bit harder.
Yuriorkis Gamboa
Gamboa burst onto the scene as the sensational fighter you just had to watch. Expectations were tempered with a few sloppy wins and close calls. However, he has steadily improved, and has risen to the top of a tough division on the strength of many quality victories.
The highly anticipated showdown against Juan Manuel Lopez never was able to come to fruition, nor was the bout against Brandon Rios. Gamboa needs a few of these big name dance partners though to have a realistic shot at breaching the very top of the pound for pound list.
Odds: 8/1 – Gamboa has what you want in a fighter. Power, talent, a willingness to mix it up, and yes, vulnerability. That makes him great to watch, but when does his chin betray him? At what point does he move up and simply face guys too lengthy for his 5'6″ frame? Two big question marks there, not to mention he's on the shelf right now with a promotional dispute.
Saul Alvarez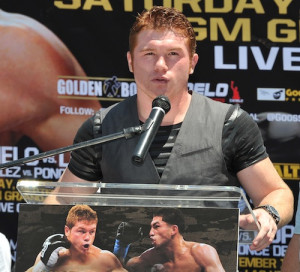 Canelo gets included in this list not so much for what he has accomplished this far – especially when compared to the other guys ahead of him on this list. Instead, he gets included because he has already risen to become one of the sport's biggest stars.
His future is bright, and his opportunities, showcases and media-backing will be ample to say the least. This gives him an inside track against many of the other faces in the crowd. Simply put, we'll be seeing a great deal of him, he's going to be talked up, and he's going to have opportunities to grab handfuls of titles.
Odds: 15/1 – Canelo is a great talent, but not without flaws in his game. He gets hit way too much, and that will cost him one day. Further, his size advantage will quickly disappear when it comes time to move to Middleweight and beyond.
Adrien Broner
Broner did a wonderful job in his last few fights, not only showcasing his freakish athletic ability and skill, but also his polarizing personality. He's going to become a big star, and as he begins campaigning at Lightweight, he'll immediately be one of the top fighters in that division.
I figure he sticks around there for maybe 2 or 3 fights before moving up to Junior Welterweight, and before too long being a three-division champion. Let's say he beats Antonio DeMarco and then challenges the likes of Brandon Rios and Lamont Peterson at 140 pounds. Those are the types of resume building wins he would need to begin his true ascent up the pound for pound list.
Odds: 5/1 – His hand speed, power, size and athleticism are going to carry him easily through multiple weight classes. We don't know about his chin yet, and we don't know how he responds to adversity. The tools are there, but of course, the tools were there for Zab Judah, too.
5 More Fighters in the Mix
Abner Mares: There are some people who are already concerned about the longevity of Mares' career, as he has already been through so many battles. But after emerging from the bantamweight tournament, he's now in his second division, and big names are lurking, ready to make or break his continued ascent.
Guillermo Rigondeaux: After an amazing amateur career, Rigondeaux is wasting no time in the professional ranks. Nonito Donaire apparently wants no part of him, but there are other big fights to be had in and around his division, including Abner Mares. A win there could land him the Donaire fight, and two wins of that caliber would put him at or near the top.
Brandon Rios: Rios is a tough, action-oriented warrior. It's hard to believe he's still just 26 years old. The question is, will he get his weight under control, and at whichever division that happens, will he have the same advantages in size and strength that he enjoyed at lightweight?
Chad Dawson: Dawson used to be a top 10 pound for pound guy, and now has worked his way into the top 15 range. An upset win against Andre Ward not only derails SOG's path to the top, it immediately places Dawson into the elite of the boxing world, with plenty of big name opponents who could propel him higher.
Sergio Martinez: Martinez certainly has the skills to get up there. And already as the number 3 fighter in the world, he has the shortest path. However, his own days are numbered. Even though he hasn't had a lot of  wear and tear on his body as a boxer, he's still 37 years old. If he reaches the number 1 slot, it won't be for very long.
Of course, there are other fighters to consider as well, not to mention ones who aren't even on our radar yet, but could rise to prominence in a flash if things go in their favor. Be sure to chime in with your thoughts below and who you believe will replace the Mayweather-Pacquiao duo as the number 1 elite boxer on the planet.