"King" Arthur Abraham Returns
After his sub-par showing in the Super Six Tournament, many had written "King" Arthur Abraham off, so much so that the Armeno-German slugger disappeared from many super middleweight rankings altogether. After a clean points win over WBO titlest Robert Steiglitz, Abraham has a belt and is back in the Top 5. Frankly he should never have been struck off the Top 10.
Woe For Abraham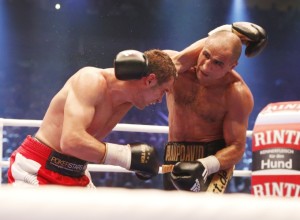 Abraham's current woes were a direct result of his 1 for 4 performance in the Super Six tournament. The powerful former middleweight champion was easily defeated by Carl Froch, Andre Dirrell, and Andre Ward, while his sole win was over a clearly shopworn Jermain Taylor. It was after the Ward loss that many observers wrote Abraham off, labeling him a one-trick pony who was there to be out-boxed.
As I previously described, striking Abraham off the contenders list was ludicrous. King Arthur is arguably the biggest banger in the division, and anyone who saw him gut it out with a sickeningly broken jaw against Edison Miranda in 2006 knows that Abraham has a will made out of iron. Furthermore, Abraham has beaten technicians before, so saying he is there to be out-boxed severely misrepresents his situation.
What Abraham has a problem with is not technique, but speed. Ward and especially Dirrell are slick fighters. In the case of Carl Froch, Abraham met a boxer-puncher who was bigger, physically stronger, and just as tough. While Abraham probably hit harder than Froch, the Cobra punched with sufficient authority to prevent a guy like Abraham from taking big risks.
These facts should have excluded Abraham only from the uppermost heights of the division, a stratum now occupied only by Ward at the peak, and then Froch and Kessler some distance below.
Arthur: King Again?
Even if Abraham can't match the top three fighters in the division, that still leaves him with plenty of room to maneuver. With the WBO crown, Abraham can build a nice little kingdom for himself, taking on a host of lower-ranked Top 10 contenders and fringe contenders before a paying German audience. Abraham might not be the favorite for every single possible match-up, but he would certainly be a threat to anyone whose name isn't Ward, Froch or Kessler.
Abraham might even pose a threat to the likes of Lucian Bute. While King Arthur would probably not be the betting favorite in such a clash, Bute's indifferent chin makes a clash with the uber-powerful Abraham far from a foregone conclusion.
The future looks bright for Abraham. Even if he can never climb to the very pinnacle of the 168-pound weight class, the Armeno-German can still hope for an exciting dance card with the division's second and third tier, and make good money doing so.