Lightweight: A Division in Transition
When, in November of last year, Juan Manuel Marquez opted to enter the ring and go face to face with his long-time nemesis Manny Pacquiao for a third time, he was considered the best lightweight in the world. He had turned back the likes of wily Cuban southpaw Joel Casamayor, relentless Australian puncher Michael Katsidis and tenacious Texan brawler Juan Diaz. His second defeat to Pacquiao was tinged with controversy, many felt Marquez had won.
With revenge in his heart, the Mexican legend fought on with a low-key light welterweight bout earlier this year, hoping a fourth installment of the Marquez-Pacquiao opera would be on the horizon come the end of 2012. It now looks like the man we know as "Dinamita" will be making his vacation to higher weights a permanent stay. It leaves the 135 lb weight class in a transitional state. When better than now to take a look at the future of this historic division?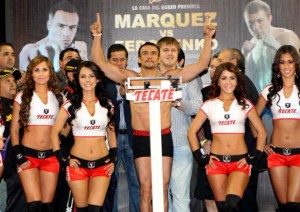 Considering the names that have graced lightweight over the years, it seems an insult to tradition for it to be filled with such uncertainty at this point though, like it or not, this is the position the weight class finds itself in, devoid of an undisputed champion and any real star-power.
Recently, some have seen lightweight as a stepping stone to higher poundage, where the plains are awash with big names and super-fights; Humberto Soto held onto this ideal while never really succeeding, Robert Guerrero bypassed the division with barely so much as a hello and goodbye, and Manny Pacquiao himself just hopped right on through the lightweight division.
Others seemed to have physical issues with the weight itself. Joan Guzman was notorious for his inability to cut down to 135, to the extent he came in nine (yes, nine!) pounds over for his rematch with Ali Funeka in 2010. Brandon Rios was touted as the heir at lightweight to Juan Manuel Marquez's supremacy, but if his consistently gaunt appearance on the scales and multiple missed weights didn't throw up red flags for this argument, his poorly scored victory over Richard Abril sounded out a full-scale alarm and a quick sprint up to 140 lbs.
Certain fighters have met more unfortunate ends to their lightweight ambitions. Jorge Linares was well respected but shocking cuts led to consecutive stoppage defeats. Edwin Valero was just emerging as a serious lightweight force, having surged through Antonio DeMarco, before succumbing to his personal demons outside the ring, meeting a tragic suicidal conclusion in 2010.
However, although the division may seem moribund, it is no wasteland and there remains a great deal of talent. The issue is simply how to coax the best out of it, and this will begin to be sorted out this September, when two quality fights are set to take place.
Antonio DeMarco looks to continue his form since his aforementioned defeat to Valero when he takes on the tough, hard-punching John Molina. DeMarco made a statement of intent with a career-best win over Linares last year. Behind on the scorecards, DeMarco chipped away, bloodying Linares' face with a gruesome cut on the bridge of the nose before forcing a halt to the fight. Similarly, Molina came from behind to stop Hank Lundy two years ago, though until now he has not been able to capitalize on the momentum that victory should have given him.
Both DeMarco and Molina can bang with real effect, absorb shots and both have previously shown plenty of heart. Expect an uncompromising battle with an ending that perhaps may not be for the feint of heart.
In another potentially thrilling clash, Ricky Burns of Scotland takes on Englishman Kevin Mitchell in a battle that should draw widespread attention in the UK. Mitchell enjoys drawing his opponent in before punishing him, never was this exemplified better than when he viciously stopped John Murray last year. Burns is the defending WBO titlist and slight favorite having comfortably seen to Mitchell's sole conqueror, Michael Katsidis. The winner of this contest will likely do his domestic reputation a world of good.
So September promises much, offering two fights containing four of the top 10 lightweights in the world, but beneath them the division remains fragmented. Miguel Vazquez has impressed as the IBF titlist though has shown no signs of stepping up to the competition surrounding him. Richard Abril effectively beat Brandon Rios in almost everyone but the judges' eyes, but who would want to fight the slick Cuban on the back of that showing?
The winners of DeMarco-Molina and Burns-Mitchell will certainly establish themselves as possible leaders of the pack, but they lack the crossover marketability needed to see a real push for the victors to meet each other for all the lightweight marbles. Perhaps what is needed is star power. Here is perhaps where Yuriorkis Gamboa and Adrien Broner come in.
Gamboa's fast hands and thrilling offensive attacked gained the Cuban much repute in the featherweight and pound for pound ranks. He previously signed to meet Brandon Rios at lightweight before various monetary and promotional issues ended up destroying what would have been an exciting match-up. Now signed to TMT promotions, led by 50 Cent and Floyd Mayweather Jr, Gamboa certainly won't lack solid backing and is set to face Juan Carlos Salgado for his super featherweight title later this year. This may be just a short stopover until he continues his ascent to lightweight.
Broner is still yet to seriously prove himself in the ring. His Twitter presence, showmanship and recent stoppage wins have seen his star power rise, however, and having struggled with weight in the past he has now moved to lightweight where he is expected to begin establishing himself as one of the sports superstars.
So then, there is reason to be cheerful for the future at lightweight, though for now the waiting game must be played. Perhaps no one will genuinely succeed, nor even match Juan Manuel Marquez's reign as the champion of the division, but there is nothing worse than the uncertainty that currently presides. People should know who the best lightweight in the world is, here's hoping the coming boxing season will help us find out.