As part of our continuing Klitschko Readiness Rating series (KRR), we're taking a look at the European champion and rising slugger from Bulgaria, Kubrat Pulev. Most fight fans got their first good look at Pulev when he knocked out the undefeated Alexander Ustinov of Russia on the undercard of the Povetkin vs. Rahman farce.
Ostensibly, winning that fight established "The Cobra" as the IBF's #1 contender, putting him on a collision course with Wladimir Klitschko (and thus making him a subject for the KRR!). Boxing is rarely so simple, however, and now word has it that Pulev will meet the winner of Tomasz Adamek vs. Steve Cunningham II to confirm Klitschko's mandatory IBF challenger. That wait is, as shall be revealed, actually a good thing for Pulev.
Kubrat Pulev: A Rising Star, But Is He Ready?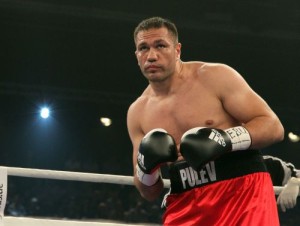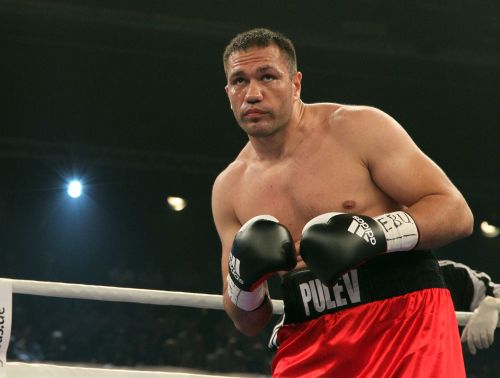 Kubrat Pulev is unquestionably a solid super heavyweight, ready for his first step onto the world stage, albeit not quite ready to tangle with the well-perfected pugilistic mincing machine that is Wladimir Klitschko. Standing 6'4 1/2″ with comparable reach, and fit to fight in the mid-to-upper 240s, Pulev certainly has the physical attributes to negate the single greatest advantage either Klitschko brother brings into the ring: sheer size.
The Bulgarian is more than just a big guy, though. He has a strong amateur pedigree, having won two European championships (2004 and 2008), where he won against the likes of Odlanier Solis, Islam Timurziev, Magomed Abdusalamov, although Pulev lost all his encounters with Italy's superb Roberto Cammaralle, a three-time Olympic medalist.
Pulev was one of the super heavyweight division's amateur contenders for much of the '00s, although he was of a second-tier caliber. In terms of style, I'd describe Pulev as a technical boxer-puncher in the stand-up, Continental style. In his absence from the amateur game, his brother, Tervel, has risen to international prominence.
Turning pro in 2009, Pulev has progressed at a good pace (especially compared to laggards like Deontay Wilder). Although he has yet to fight better than a solid, gatekeeping journeyman, his team's choice of journeymen to mix it up with has been first rate. In just three years, The Cobra bit Matt Skelton, Dominick Guinn, Michael Sprott and Alexander Dimitrenko. Add in Ustinov, and Pulev has one of the better resumes among the heavyweight prospects today.
Bottom Line: Pulev's Klitschko Readiness Rating
The KRR: B
Unlike some other big guys the Klitschkos have fought (Tony Thompson and Sam Peter come to mind), Pulev actually has the combination of deep technical polish and matching size to give either brother a major headache. In terms of his most likely opponent, Wladimir Klitschko, the big Bulgar is missing two things: professional experience and the proven ability to mix it up and go physical.
Kubrat Pulev hasn't taken on even a real "name" opponent of any caliber yet, so to say he is ready to go after even David Haye or Alexander Povetkin yet is a bit of a stretch. It's not even clear how he would do against other rising giants, such as Robert Helenius or Tyson Fury (although I do like his chances just a little bit). He isn't prepared for a clash with the world's dominant heavyweight. Taking on the winner of Adamek vs. Cunningham II is another step forward, but I think he needs two such steps before he earns a KRR grade of "A."
More than that, the real thing missing from Pulev's approach thus far is being able to turn brawler or puncher. He is a big man with real power, but year after year in the amateur circuit has left him with that awful habit of looking merely to connect, instead of putting bad intentions on every punch. Were he looking to go out and use his technique to crack open the other guy every time, his knockout percentage would be higher than 52%.
This aspect is important against Dr. Steelhammer, because I doubt Pulev will ever be good enough to beat the big Ukrainian at his own technical game. Pulev's road forward is to use his size and skill to blunt Klitschko's preferred, rangy approach and make him mix it up at medium range, where Wladimir is uncomfortable and his suspect chin can be reached. More than anything else, Pulev needs to make letting his hands go and banging away into an effective Plan B.