Now that Kelly Pavlik's title fight with #2 Pound-for-Pound contender Andre Ward has been scrubbed, one of the two possibilities for filling the comebacking Ohio slugger's dance card is a clash with Arthur Abraham. I'm calling on Showtime and the promoters concerned to make that fight happen, because it is long overdue. In fact, I believe that 2013 is serendipitously the best time for an Abraham vs. Pavlik bout to take place.
Yesteryear: Undefeated Middleweight Titans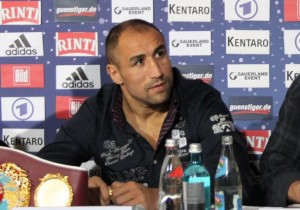 As pointed out by our own Guy Michels in a recent article, Pavlik vs. Abraham was one of the biggest fights that didn't happen in the last 20 years. This is because there was a time not so long ago when both men were undefeated titans, ruling this middleweight division like kings. A third fighter, Edison Miranda, illustrates the past dynamic between these two fighters best.
Arthur Abraham captured the IBF middleweight crown in 2005, and solidified his claim to it by gutting out a gory slugging match with the thuggish power puncher Edison Miranda in 2006. Abraham saw his jaw broken in that fight, but doggedly hung on to win the decision.
Miranda went on to meet Kelly Pavlik the next year, in an eliminator for the WBC crown. Pavlik viciously out-punched Miranda, winning a TKO7 that set up his pair of clashes with Jermain Taylor.
In mid-2008, Miranda challenged Abraham in a rematch, but as a thug, Miranda didn't have the stones to hang with Abraham for another war (and especially not without the advantage of Abraham struggling with a shattered jawbone). Abraham polished off Miranda easily.
The stage was set: Pavlik was the WBC-WBO and lineal champion; Abraham had eight title defenses under his belt, and was the clear #2 man in the division; both men were undefeated. Excepting the pretensions of Felix Sturm, the winner would have been the clear World Middleweight Champion.
Except that it never happened. Pavlik preferred to fight Bernard Hopkins, and in losing that fight began a long period in which he hit the bottle and altogether lost focus. Abraham went on to the Super Six Tournament, and after an electrifying start in knocking out Jermain Taylor, became one of the tournament's biggest losers.
Better Now Than Then
As logical as a Pavlik vs. Abraham clash would have been in 2008, the fight looks even better in 2013, and the reason is Pavlik has declined over the last five years. Although the fight looked like a great match on paper in 2008, the truth is that Pavlik in his prime would have drummed Abraham into submission. He was the quicker, more fluid puncher, as well as having a substantial height and reach advantage, and at the time I couldn't see Abraham finding any answers for a tall, rangy, skilled banger, not with his plodding, cautious, peek-a-boo style.
Yet the bottle takes a toll, and like with Ali vs. Frazier III, Pavlik has lost enough to make the fight competitive. Pavlik probably doesn't have quite the edge in hand speed that he would have had five years ago, and his gas tank isn't as deep, and meanwhile Abraham hasn't lost a thing. Contrasted against the certain slaughter Pavlik was facing at the hands of Andre Ward, Abraham vs. Pavlik looks like a fun match-up.
Furthermore, the fight has certain business attractions for both men. First off, it's a fight either guy could win. If Abraham wins it, it's a big score over a name opponent, and that goes a long way to erasing his Super Six performance. Should Pavlik win it, he captures the WBO Super Middleweight Title and gets back in the game. Finally, the fight is at least as lucrative a payday as any other possibility either man has on the horizon right now.
So if you are Cameron Dunkin, Bob Arum, and/or Kalle Sauerland, take this message home with you: make Abraham vs. Pavlik happen.