Timothy Bradley vs. Juan Manuel Marquez on September 14?
Remember when Las Vegas hosted two separate fight cards at the same time, on the same night, promoted by rival companies and shown on rival networks? That occurred last September, when Sergio Martinez defended his belt against Julio Cesar Chavez Jr, while down the road, Saul "Canelo" Alvarez met Josesito Lopez.
Well, we may be headed to the exact same scenario once again, also during the popular Mexican Independence Day weekend.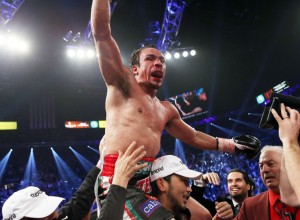 Word from Keith Kizer, Executive Director of the Nevada Athletic Commission, is that Top Rank has requested the date of September 14 at the Thomas and Mack Center for the proposed Juan Manuel Marquez vs. Timothy Bradley fight, to be aired on HBO.
The same date was also requested by Golden Boy, way back in December, for a Floyd Mayweather event at the MGM Grand. The event would be a Showtime Pay-Per-View, and it's no secret than Canelo Alvarez is the only horse in the race to land that date assuming the negotiations can be handled. Of course, Floyd Mayweather has some business to handle against Robert Guerrero, first.
Kizer showcased emails from Richard Schaefer and Top Rank attorney Daniel Pancheri showing their requests to the Nevada commission.
It's interesting that Top Rank, in full knowledge of rival Golden Boy's plans to put together Mayweather vs. Canelo on September 14, would still choose to put Marquez vs. Bradley on across town at the same time. Marquez vs. Bradley is a very intriguing fight… but Mayweather vs. Canelo is perhaps the biggest fight which can be made at the sport at this time.
The interest, build-up and numbers for that fight would dwarf those of Marquez vs. Bradley, even if that card does produce a sellout as well. I would imagine that Top Rank would be hurting their own business more than they would be hurting Golden Boy's by staging the card on the same night.
As a fight fan, I'll be eagerly anticipating Marquez vs. Bradley, and Mayweather vs. Canelo as well. I don't quite see the logic of staging the latest Top Rank vs. Golden Boy and HBO vs. Showtime battle over that fight weekend, however.
Comments
comments