October 26 is a significant date in the history of the Sweet Science, a day when one great heavyweight redeemed the name of another.  On that day in 1951, Joe Louis fought his final ring battle, defeated by Rocky Marciano; on the same day in 1970, Muhammad Ali returned to the arena following a three-year absence, scoring a win over Jerry Quarry.
Joe Louis vs. Rocky Marciano — October 26, 1951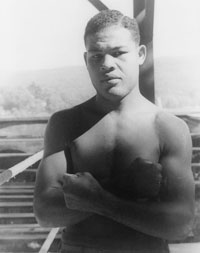 Joe Louis retired after his 1948 knockout of Jersey Joe Walcott.  With absolutely nothing more to prove, but in desperate need of money, Louis returned to the ring two years later.  The ill-advised comeback began inauspiciously enough, with Louis decisioned by Ezzard Charles.  It was the Brown Bomber's first defeat since 1936, when he'd been kayoed by Max Schmeling.
Following his loss to Charles, Louis won his next eight bouts, scoring victories over such worthies as Cesar Brion, Lee Savold, and Jimmy Bivins.  Smooth sailing for the good ship Brown Bomber…until it ran smack into a squall named Rocky.
Rocky Marciano seemed unstoppable in October 1951.  He'd racked up 37 consecutive wins since first entering the ring four years earlier.  He'd defeated six opponents in 1951 alone, including Freddie Beshore just two months prior to the Louis bout.
When the once and future champs faced each other at Madison Square Garden on October 26, Marciano was 27 and at his peak; Louis was 10 years older and in his professional dotage.   Although Louis did damage with his still justifiably feared left jab, he was no match for the ever-swarming, power-hitting Marciano, who twice knocked his opponent down in the eighth.
The end came in the same round when Marciano dropped Louis for an eight-count with a left hook, then sent him sprawling into the ropes with a right.  As the former champ said after the fight:  "I saw the right hand coming, but I couldn't do anything about it.  I'm too old I guess."  Yeah…but still the greatest heavyweight champ of them all.
Muhammad Ali vs. Jerry Quarry — October 26, 1970
Muhammad Ali had 29 consecutive wins to his credit from the time he entered the ring in 1960 to the time he faced Quarry 10 years later.  He'd relieved Sonny Liston of the world championship in 1964, but was stripped of his title and boxing license in 1967 because of his refusal to be inducted into the Army. His last fight prior to the Quarry bout was a KO victory over Zora Folley in March 1967.
Also See: Muhammad Ali Career Timeline & Fantasy Fight Marciano vs. Ali
Ali returned to the ring after three years thanks to the City of Atlanta Athletic Commission granting him a boxing license.  His first opponent was the very tough and able Jerry Quarry.
Quarry was a hell of a lot more than a jumped-up journeyman fighter, as some would have it.  If not for the presence of giants Ali and Joe Frazier (who beat Quarry in 1969 and 1974), the Bellflower Bomber may very well have become Heavyweight Champion of the World.  He fought 45 times, winning 37, from the time he entered the ring in 1965 to 1970.  Prior to facing Ali on October 26 in Atlanta's City Auditorium, he had already fought and won four fights in the year.
Flicking his patented jabs, Ali opened a deep cut over his opponent's left eye.  Though the first two rounds were hard fought, Quarry wound up bleeding like the proverbial stuck pig, and the fight was stopped in the third.
There are no villains in this piece, but there's nevertheless a certain poetic justice.  Ushered from that squared circle by a combination of time and a formidable opponent, Louis was ineffably returned to it by the comeback of another great champion 19 years later to the day.
One can only wonder if Louis recognized in his own heart and mind Ali's however unintended gift.  He certainly didn't do so publicly.  When Ali asked Louis if he thought he could've beaten him, Louis reminded his successor of his Bum of the Month Club.  "You mean I'm a bum?" demanded an incredulous and outraged Ali.  "You would have been on that tour," said Louis.  Ouch!  Well, Tony Galento and the other guys Louis fought were anything but bums.  And neither was Ali, of course.  And no one knew that better than Joe Louis.
Nevertheless, perhaps one day a fighter will return the favor Ali did for Louis, and somehow wash away the almost unbearable embarrassment of the match between Ali and Larry Holmes or between Ali and Trevor Berbick.  Fingers crossed.