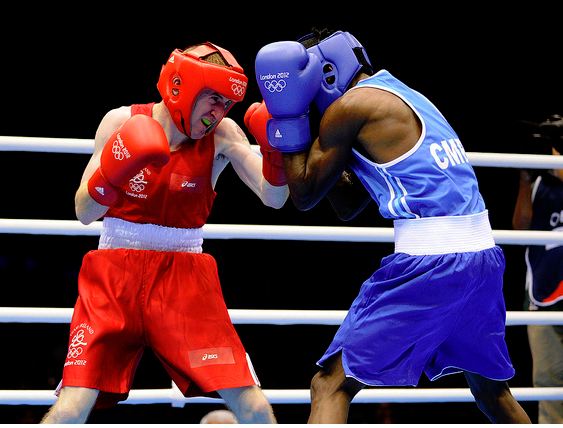 2012 London Olympic Boxing Pictures
Through nearly 10 days of Olympic boxing action thus far, fight fans have seen over 200 fights. The men's field has been whittled down from the opening rounds to the quarterfinals, and the women's bracket is getting ready for semifinals action. Right here, you can find a huge collection of Olympic boxing photos from all of the action we have seen so far. It's definitely worth a look, enjoy.
Olympic Boxing Photos
These pictures have been available on the official AIBA Flickr page. There are even more photos available there for you to take a peek at.
The pictures are all accredited to AIBA and photographer Caroline Quinn.
The photo names have the name or names of the boxers depicted.

We have almost 100 photos of the boxing competition at the London 2012 Olympics here for you to browse through and enjoy, including both the men's side and women's side of the tournament.
A lot of the pictures are simply great action shots of fighters exchanging punches in the ring. But many of the other photos capture the emotions of Olympic competition, and what it means to everyone involved. The sheer exultation of winning, the terrible disappointment or surprise of defeat. The physical wear and tear of a boxing match, the elation of simply being on the stage to begin with.
For USA boxing fans, the tournament has been a disappointing one. For other fans across the globe, there has been controversy and even outrage in some cases. But more so, the boxing action has produced a lot of great memories, compelling story lines and exciting fights so far.
So enjoy our London Olympics boxing photo gallery and be sure to keep on coming back for more Olympic boxing news, notes and results right here at ProBoxing-Fans.com.
Comments
comments