Salido vs. JuanMa II – Will JuanMa Lopez Get his Revenge?
In a key rematch that will likely determine the immediate course of the featherweight division, Orlando Salido defends his crown against the man he beat for the title–Juan Manuel Lopez. The March 10 battle will take place in Lopez' native Puerto Rico and will give "Juanma" a chance to avenge the only defeat in his career. In April of last year, Salido battered Lopez en route to a 8th-round TKO loss in a titanic upset.
For Lopez, this is an a absolutely critical fight that is in many ways career-defining. If he loses, a once ultra-promising career will be in the dumps. And for Salido, this is a chance for him to emerge from the ranks of a one-time giant-killer and transform into a legitimate, true-blue world champion. The stakes are high and the fight should reflect that with pulsating action. For boxing fans, this is one of the true gems on the early part of the 2012 schedule.
Date: March 10, 2011
Site: Coliseo Roberto Clemente in San Juan, Puerto Rico
Title: WBO Featherweight Title: 12 Rounds
Vital Stats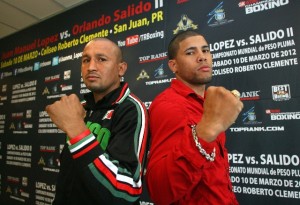 Salido: The 31-year old veteran is 5'6" with a 67-inch reach. His record stands at a deceiving 37-11-2 (25) in a pro career that stretches back all the way to 1996, when Salido was just 15 years old. Of those 11 defeats, 7 occurred while Salido was in his teens.
Lopez: The fresh-faced youngster is now already coming up on his 29th birthday. His record is 31-1-1 (28), with his only defeat coming against Salido in an absolute shocker. Lopez stands a tad over 5'5" with a 2-inch reach advantage on Salido at 69." Having turned pro in 2005, Salido has almost a decade of pro experience over Lopez, despite being only a few years older.
Body of Work
Salido: "Siri" has fought most of the better featherweights over the past decade. But only in the second half of the 2000's was he able to begin winning consistently. Lost to big-name fighters at 126-130 like Alejandro Gonzalez and Juan Manuel Marquez, before finding his footing. A positive drug test for steroids following a 2006 win over Robert Guerrero spoiled what would have been a big win and sent Salido to the back of the pack. In his second attempt, he managed to annex the IBF belt from Cristobal Cruz in 2010, avenging a 2008 defeat. Salido fought decently in a decision loss to Yuriorkis Gamboa and was expected to be fodder for Lopez in his next fight, but in April 2011, Salido passionately snatched Lopez' belt and punched his ticket in the process.
Lopez: Ballyhooed prospect built up slowly, before exploding onto the world stage with a trio of consecutive first-round knockouts to consolidate his championship credentials. Scored dominant wins over name talent like Daniel "Ponce" De Leon and Gerry Penalosa, before barely surviving the game challenge of 26-12-2 Rogers Mtagwa. Rebounded nicely and upon rising to 126, scored dominant wins over Steven Luevano, Bernabe Concepcion, and Rafael Marquez, before running into Salido. It's as if the only fighters who give Lopez problems are gritty vets with double-digit losses.
Previous Fight
Salido: In about as alarming as a tune-up as you can find, Salido barely survived unheralded clubfighter Weng Haya. Down twice in rounds 3 and 4, Salido stormed back to stop the 14-4 Filipino prelim fighter in the 8th.
Lopez: Made absolute mincemeat out of decent contender Mike Oliver, dropping his 25-2 opponent twice in the 1st, before finishing him in the 2nd round in a much-needed confidence booster.
Style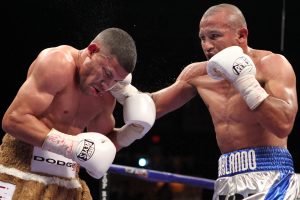 Salido: For the most part, he's an aggressive fighter who wields a damaging right hand. But with over 50 fights and 15 years of pro experience, Salido is a tricky and rather slippery proposition. The rugged Mexican has not been stopped in a dozen years and is a tough night's work for anyone at 126.
Lopez: Though able to box, Lopez usually opts for a bombs-away strategy. For the most part, it has worked, but against fighters able to stand up to his power, Lopez has struggled. The problem is that while he attacks, he neglects defense. His future standing in this sport will largely depend on whether or not he can add some elements of defense and ring intelligence to his profile.
Questions and Issues
Salido: Does he have a Plan B if Lopez learns to avoid his big right hand? Did his last fight, an almost-calamitous non-title bout, reflect merely an off-night or a sign that maybe he's getting a little overripe? Will he be able to adjust to Lopez' adjustments or will he find himself a half-step behind all night? Can he really beat Lopez twice, both times in Puerto Rico?
Lopez: Was he in poor spirits coming into their first fight? Did marriage and weight problems deprive him of his usual edge? Did he overlook the tough, but otherwise unheralded Salido? Has he made the necessary corrections? Did the fact that he kept getting tagged by the same punch over and over paint Lopez as a front-running fighter without the requisite ring IQ to make mid-fight adjustments? Will Lopez prove to be a comet in this sport with a short shelf-life or a star who can continue to shine?
Salido vs. JuanMa II Prediction
This pairing reminds me of Terry Norris vs. Simon Brown in a sense. In the first Norris-Brown bout, the heavy underdog used right hands to bludgeon Norris into submission, much like how Salido put away Lopez. In the rematch, the superior talent and youth of Norris surfaced, as Terry used his legs to outbox Brown by a large margin. Unable to make the mid-fight adjustment, Norris came into the second fight with a better strategy, a much more healthy respect for his opponent, and a heightened sense of urgency.
Can Lopez do that? On paper, I think he can. It makes total sense that his mind will be sharper for this. Maybe he saw Salido losing to Cruz and Gamboa and subconsciously figured he could just show up and polish off the Mexican veteran. Suddenly, Lopez finds himself in an absolute make-or-break situation and his mental outlook will reflect that in terms of his preparation and ring demeanor.
Look for Lopez to add a healthy dose of movement to his hard-hitting offense. He will be moving away from Salido's right hand, as opposed to their first encounter, where he seemed to run headlong into most of those shots. I don't anticipate a whitewash in the Norris-Brown II category. Lopez is more of a slugger at heart and will probably still have to eat some shots. At the end of the day, however, I see Lopez enduring some tough moments to emerge a decision winner in a good close fight.
Prediction: Juan Manuel Lopez wins by unanimous decision.