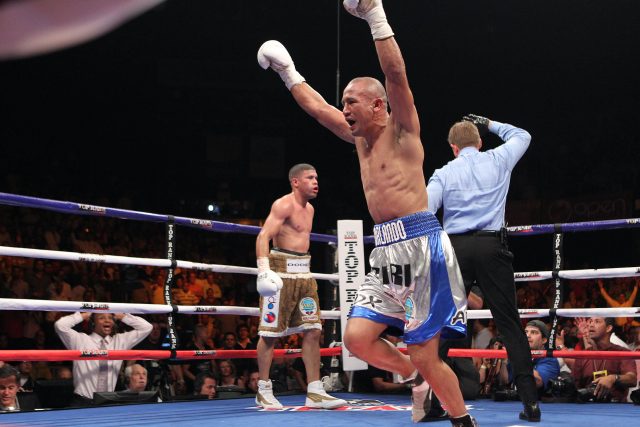 What was the Biggest Upset in Boxing in 2011?
As they say, "That's why they play the game." Every year, results come down the pike that leave fans groping to make sense of it all, and 2011 was indeed the year of the upset. Today's superstars can easily become tomorrow's afterthoughts. In other sports, the idea of fighting your way to success is simply a metaphor. But in a sport where hungry fighters literally fight to get what they want in life, you can never assume what will happen in a boxing match. Here are 3 more reasons why you never really know what will happen in this sport.
2011 Upset of the Year: Orlando Salido KO 8 Juan Manuel Lopez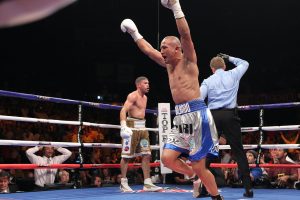 Even if you thought Lopez' defensive liabilities would eventually catch up to him, you probably didn't think the 11-loss Salido would be the man to turn the trick in their April bout. Lopez was making his way onto pound-for-pound lists, and at 30-0 (27), considered a budding superstar–gearing up for a featherweight superfight with fellow unbeaten Yuriorkis Gamboa.
Three consecutive 1st-round knockouts in his first three world title fights underlined his potential and wins over Ponce DeLeon, Gerry Penalosa, and Rafael Marquez, among others, seemed to have him poised for bigger things. And not there is anything wrong with Salido, who has shown himself to be a upper-echelon performer, going 23-3 since 2002 against good competition. But this was clearly meant to be a showcase for Lopez.
In splitting a pair of bouts with tough, but unexceptional Cristobal Cruz and losing a clear decision in his previous fight against Gamboa, Salido seemed to hit his level of a capable contender unable to compete with the top guns. Down twice in the 12th round against Gamboa, Lopez was going to presumably finish off the job. Think again.
There was some good back-and-forth, but before long, two things were becoming clear: Salido was walking through Lopez' best shots and "Juanma" had no answer for Salido's right hand. Not that the early rounds saw no success for the champion, but flush blasts to the head began to take their toll on Lopez, who was dropped in the 5th round. The pounding continued, with Salido mercilessly slamming the meaty part of Lopez' head with bludgeoning rights. The slaughter was stopped midway through the 8th round.
Don't forget to check out the rest of our 2011 boxing awards for dozens of different year-end awards and honors!
2nd Place: Nobuhiro Ishida TKO 1 James Kirkland
Kirkland, 27-0 (24) was in his 3rd comeback fight after a spell in the can. The hard-punching Texan was expected to dispatch of the Japanese visitor, fighting in the USA for the first time. With only one loss since 2004, Ishida was a step up from the cannon-fodder served up to Kirkland in his first two comeback fights, but hardly considered a threat. With 7 knockouts in 30 fights and being 35 years old, it wasn't easy to see this coming.
Kirkland came out gunning, but was soon picked off by the sharpshooting Ishida. Down he went from crisply-thrown, but not terribly menacing-looking punches from the angular underdog. Unable to adjust, Kirkland continued running headlong into his opponent, who pelted him at will. After 1:52 and three knockdowns, ref Joe Cortez had seen enough and gave Kirkland the hook. He may have been able to continue, but looked very wobbly at the end. His inability to take Ishida's shots was stunning, especially in light of Kirkland's subsequent knockout win over Alfredo Angulo.
3rd Place: Lamont Peterson W12 Amir Khan
However you may feel about the result, not many people outside of Peterson's camp thought it would be that close. The two points deducted from Khan were the deciding factors, throwing a light of controversy over this bout. But just because Peterson needed a few breaks to win doesn't completely detract from the fact that it was a huge upset.
Peterson looked to be a good contender sort, a successful pro who lacked that extra something special. Against Timothy Bradley, he was stalwart, but otherwise uninspiring as he dropped a wide unanimous decision. With people thinking Bradley may have ducked Khan, whose stock had been on the rise, this one figured to be another rout. It was, at root, a stay-busy fight, a way for Khan to stay active while waiting for bigger fights–maybe even a match with Floyd Mayweather.
Peterson fought his tail off, wickedly attacking Khan's body with a determined effort. Khan did well and probably enough to win the fight anywhere outside of Washington, D.C., but he was thrown off by the fierce fighting of the dogged challenger. Peterson put himself in position to win this fight and even if he wrongly benefited from a pair of points being taken away from Khan (for pushing of all things), that doesn't mean he didn't do exponentially better than anyone thought he would.