Paul Williams and Nobuhiro Ishida enter their February 18 bout heading in opposite directions in their respective careers.  One man is only now experiencing a renaissance of international fame in the latter stages of his career; the other, a single loss away from irrelevance.
Paul Williams entered the professional ranks with boatloads of potential and the hype to match.  Initially, Williams did not fail to live up to the talk, going nearly eight full years without a professional loss.  Yet, with all shooting stars, the upward trajectory is almost always matched by the inevitable descent.  A string of respectable wins did not result in pushing Williams into the level of stardom initially anticipated.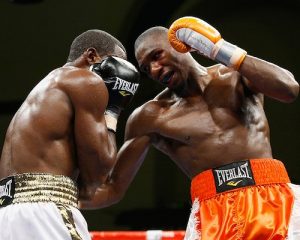 Staring down the opportunity to claim "most underrated" status, Williams then suffered a devastating, highlight film-worthy knockout by Sergio Martinez in their 2010 rematch.  He followed that setback with a very questionable majority decision win over Erislandy Lara in his next fight which may have actually done more damage to his reputation than the knockout.  Williams was no longer viewed as the beast of the Junior Middleweight division.   The hype was gone.
For Nobuhiro Ishida, a shot at Paul Williams would simply be another step on the road to international relevance.  The 36-year-old veteran has enjoyed a decent career overseas, but hadn't been considered a genuine threat in the U.S. market.  A surprising knockout of Proboxing-fans.com number-four ranked Junior Middleweight James Kirkland last April followed by an impressive TKO victory over Mexican newcomer Edson Espinoza in Mexico City has made Ishida more intriguing to U.S. fans than ever before.  While still not considered a serious contender for the gold, Ishida has suddenly become the most dangerous Junior Middleweight fans likely haven't heard of.
When: February 18, 2012
Where: American Bank Center, Corpus Christi, Texas
Undercard: IBF Light Heavyweight champion Tavoris Cloud (23-0, 19 Kos) defends against Gabriel Campillo (21-3-1, 8 Kos); Chris Arreola (34-2, 29 KOs) is slated to take on a yet to be determined heavyweight
The Pugs and The Prize
Paul "The Punisher" Williams (40-2, 27 KOs)

Height: 6'1"
Nationality: U.S.A.
Age: 30
Fighting out of: Aiken, South Carolina
Stance:  Southpaw

Nobuhiro Ishida (24-6, 9 KOs)

Height: 6'1"
Nationality: Japan
Age: 36
Fighting out of: Osaka, Japan
Stance: Orthodox
Although no gold is on the line, the stakes couldn't be higher for Williams who is looking to rebound from the Martinez loss and the Lara controversy.  Ishida is looking for a third straight victory which would run his record to a very respectable 10-1 in his last eleven fights.
Williams vs. Ishida Preview
In recent years, Paul "The Punisher" Williams has been as much a casualty of the hype surrounding him as any of the failings he may have experienced in the ring.  With success came increased expectations; with increased expectations, Williams seemed to wilt. Bewildered at how the widespread assessment of Williams could be so inaccurate, analysts quickly began backtracking on their initial impressions.  Whether this had any tangible influence on the career of Williams is unclear, however the lean, powerful puncher out of Aiken did little to dispel the doubt.
James Kirkland expected to make quick work of Nobuhiro Ishida on his way through the Junior Middleweight ranks.  Although enjoying a decent career overseas, the 36-year-old Ishida proved to be a durable fighter who used his length and reach to his advantage.  Relying on lightning-quick hands and exceptionally nimble footwork, the soft-throwing jab artist compiled a respectable record heading into the Kirkland bout.  Imagine the surprise of fans and analysts worldwide when Ishida not only made quick work of Kirkland, but did so via a TKO in the first round.  With that hallmark win, Ishida has earned the right to be taken slightly more seriously than he has until this point of his career.
The February 18th bout pits Williams—the ultimate reclamation project and psychological underdog—against Ishida who does not appear to realize just how impressive his recent work has been, and how good he could be given the right circumstances.  For Williams, this is just the latest in what is becoming an growing list of "last chances," whereas Ishida looks to further imprint his name into the dialogue of Junior Middleweight discussions.
The Analysis
In his last two fights, Williams has not showed the ability to come through when the stakes are at their highest. A loss to Ishida would still qualify as a fairly major upset and may prove to be the death knell in Williams' career progression.
Physically, both he and Ishida are very similar.  Wide stances, long reach and solid jabs are the signatures of each.  What separates Williams is his power and ability to cut off the ring.  He plays angles as well as anyone his size and can direct the flow of a fight when he's at his best.  Williams will need to be the aggressor and look to take Ishida down early.  The longer the fight progresses, the greater the chance that Ishida will wear Williams down and force an error.  Both fighters hold their hands relatively low on their chests and throw from that angle.  Williams' strong left cross could prove to be the difference.
Ishida is not going to defeat or even match Williams punch-for-punch, in the power department.  Oh, he'll throw them all day long and double on Sunday, but the dizzying Ishida will primarily look to wear Williams down and strike as quickly and frequently as possible.  He's a quantity-over-quality type of fighter — although Williams is too, in most cases. Look for him to land more punches than Williams, but the impact should be minimal by comparison.  Ishida is going to have to look for an opening.  Striking and moving will be the basis of Ishida's attack throughout the fight.
Williams vs. Ishida Prediction
Paul Williams is a desperate fighter with just enough talent to be dangerous.  Fully aware of what's on the line, Williams will approach the bout with the appropriate level of preparation and strategy.  In the other corner, Ishida recognizes that he's essentially playing with house money at this point.  A victory over Williams may move the needle, but it likely would not propel him into the discussion of viable Junior Middleweight contenders.
Still, he's going to be looking to exploit Williams' recent lack of success and the psychological advantage it provides.  Ishida will move laterally throughout the fight and likely throw more soft jabs than fans ever thought was physically possible.  He doesn't possess straight knockout power, despite what the fluky KO over Kirkland would seem to suggest. However, if Williams insists on leading with his head again (as he did with Martinez, and Lara), Ishida could sneak in a shot or two that might stagger "The Punisher."
Overall, the fight will be evenly matched, albeit not tremendously exciting.  On pure boxing skill and power, the pick is Williams.  He'll utilize his strength and quick left hand to subdue Ishida and neutralize his speed.
Prediction: Williams by TKO in the sixth round.