Expert Manny Pacquiao vs. Juan Manuel Marquez Predictions & Picks
As usual for all the big fights, we've gathered up the troops and have put together the roundup of our Pacquiao vs. Marquez 4 staff picks and predictions. The Manny Pacquiao vs. Juan Manuel Marquez bout takes place on Saturday night, December 8th, and will be shown on pay-per-view. Before tuning in, take a look at our official Pacquiao-Marquez predictions right here. Who do we think will end the night with his hand raised – Pacman or Dinamita?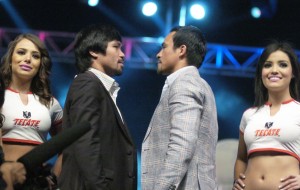 Rich Thomas: Every fight between Pacquiao and Marquez has been close, close enough that it could have gone either way, yet the record reads 2-0-1 for Pacquiao. After the travesty of his loss to Timothy Bradley, I believe Pacquiao is now suffering from the overcompensation curse.
Marquez is literally the only fighter in the world who has been penalized by scorecard favoritism towards Pacquiao, so the idea that he won't benefit from the new move to overcompensate for past wrongs against him is unlikely in the extreme. Given that nothing has changed in terms of the in-ring balance of power between these two men, it seems to me that Pacquiao would need to knock Marquez out to win.
My prediction is that JMM wins this fourth and final encounter. The fight will be close, but the scorecards will hand the reigning King of Mexican Boxing a clean Unanimous Decision. Prediction: Marquez via Unanimous Decision
Scott Levinson: Pacquiao and Marquez have already made for 3 close fights. Maybe we're due for a spike in the flat-line or it could be another fight where there is nothing to separate the two men. I think Pacquiao is in a tough spot. Imagine having to fight Marquez 4 times without ever coming up short. I mean, what's Pacquiao going to do, keep fighting Marquez until he loses?
I think Marquez is genuinely revved up to win this and might take some more risks in order to do so. It seems like a guy who always gets close without getting the "W" would be thinking that way. That could make him a little more dangerous, but also expose him to stuff he managed to steer clear of in the last 35 rounds of their rivalry, going back to round one of their first fight when Marquez went down three times. I see this one as another fierce battle, featuring more open exchanging than in Chapter 3. A late knockdown will seal it for Pacquiao, again by close decision. Prediction: Pacquiao  via Decision
—> Read Scott's full preview & prediction here

Matt Andrzejewski: Manny Pacquiao's style plays right into Juan Manuel Marquez's hands.  We have seen this three times before and we will see this again when they fight for the fourth time.   I do think Pacquiao is going to go for the knockout in this fight.  He does not want to leave anything to chance with the judges.  And in my opinion by doing so will leave himself even more open to counter punches from Marquez.  I look for Marquez to take full advantage of this and land clean effective counter shots all night long.  In the end Marquez will earn a clear cut unanimous decision victory. Prediction: Marquez via Decision
Jake Emen: I'll make this pretty quick. These two guys are incredibly evenly matched. For one man to never lose in four separate fights against a guy that he's basically 50/50 with is just too much. It's going to be another close fight, but Juan Manuel Marquez will finally get the decision. Team Pacquiao will be in an uproar about it, and it will be a fight which could have gone either way. But this time, it goes to Marquez. So do we see a fifth fight next? Prediction: Marquez via Split Decision
Clarence George: Juan Manuel Marquez had three opportunities to stop Manny Pacquiao.  No disrespect to a fine boxer, but he flubbed it each time.  He's now nearing 40, and is unlikely to have the juice to keep Pacquiao down (though he might put him down).  True, Pacquiao's disinterest in boxing in general is palpable.  But he's the superior fighter, and that should be enough to gain him a win — but not definitively, not by stoppage.  Prediction:  Pacquiao by unanimous decision.
Nick Jukhoop: Trying to call this fight is a bit like calling a fight between the irresistible force and the immovable object!  Despite Pacquiao being  2-0-1 in their trilogy to date, I would have said that a 1-1-1 record would have been a fairer judgement.  Obviously both men will be looking for an emphatic win by knockout but the fact is their styles neutralize each other. Marquez, I thought, was unlucky not to get the nod last time out, and I believe his superior technical boxing will be the difference against a slightly faded Pacquiao.  I pick Marquez to finally get the elusive judge's decision sending the potential Pacquiao vs. Mayweather fight even further past its prime. Prediction: Marquez via Decision
Guy Michels: Marquez has stylistically caused Pacquiao troubles from the second round of their first fight till the final bell last time out, and I expect this fight to be no different. The Pac-Man's best chance of a stoppage victory will be to hunt for it in the opening rounds, as he's a faster starter than JMM. However, I'm not sure if the Pacquiao that will enter the ring is the same beast as a few years ago as his shots just don't seem to carry the power we have become accustomed to. I think it will end up being another close fight, maybe lacking some of the fireworks of the previous 3. However, this time I can't see the judges not scoring the tight rounds to Marquez, after the previous controversies, which will be enough to see the Mexican win it on the scorecards. Pacquiao vs. Marquez 5 anyone? Prediction: Marquez via Unanimous Decision
Blair Newman: Marquez has always caused Pacquiao problems stylistically and I don't think that is going to change. It then comes down to other areas such as form, confidence and particularly at this stage in both their careers – physical equipment. Pacquiao was fortunate to get the decision last time out and since then he suffered the controversial defeat to Bradley. He also has political aspirations, whereas Marquez only has his mind on one thing, victory over Pacquiao before retirement. I think we will see a repeat of last time, except Marquez will come on stronger later on to nail down the victory on the judges' scorecards. Prediction: Marquez Via Unanimous Decision
Pacquiao vs. Marquez 4 Predictions – Final Tally:
Manny Pacquiao: 2 (all by decision)
Juan Manuel Marquez: 6 (all by decision)
So there you have it. Lots of different thoughts and views with our Pacquiao vs. Marquez predictions, but the pendulum has swung in the other direction, and more of our team is picking the upset than going with the favorite, and the guy who is undefeated in their first three fights! Very interesting…
To see for yourself how it all plays out, come back on Saturday night for our live Pacquiao vs. Marquez round by round results!