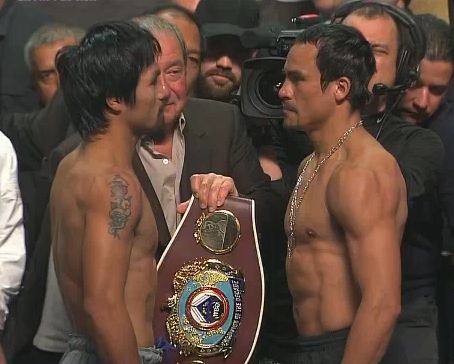 The official Manny Pacquiao vs. Juan Manuel Marquez weigh-ins were held this afternoon at the MGM Grand in Las Vegas, Nevada. About 3,000 screaming fans were in attendance, making it quite a spectacle. Right here, you'll find a complete collection of the official weights and Pacquiao vs. Marquez weigh-in results, photos, video clips from the event and more. Take a look!
Official Weights – Manny Pacquiao vs. Juan Manuel Marquez 4
Manny Pacquiao: 147 lbs
Juan Manuel Marquez: 143 lbs
Pacquiao vs. Marquez Weigh-in Photos
—-> Be sure to come back on Saturday night at 9 pm for our live Pacquiao vs. Marquez round by round results!
Marquez looks very muscular, which isn't surprising especially with all the talk we've heard, but he was well under the limit. And it was Pacquiao who actually comes in at the full Welterweight limit. He also is looking muscular, and he always does.
Both men just look ready to go, Marquez was a bit more fired up, Pacquiao a bit more laid back.
As mentioned, it was a jam-packed arena with thousands of fans in attendance, lots of supporters for each man, although more for Pacquiao. Celebrities were out in force as well, including Mike Tyson.
Weigh-in Videos
Undercard Weights
Yuriorkis Gamboa: 130 lbs
Michael Farenas: 130 lbs
50 Cent was out with Gamboa when he stepped on the scales. He'll also be singing his ring walk tomorrow night. Gamboa is significantly more muscular than Farenas.
Miguel Vazquez: 135 lbs
Mercito Gesta: 134 lbs
Both guys look ripped and ready to go, this may be the most competitive and intriguing bout of the undercard.
Javier Fortuna: 126 lbs
Patrick Hyland: 126 lbs
These two look ready to go. They got into some intense shouting and shoving after stepping on the scales, and a lot of trash-talking has been going on between these undefeated featherweights.
So there you have it, and after months of waiting and hype and buildup, we're finally just 24 hours away from fight night. Be sure to check back with us all weekend long for more in-depth coverage and analysis, and thanks for taking a look at our Pacquiao vs. Marquez weigh-in results and photos!