It's important to be able to regularly see the stars of a sport in order to get into it. And looking at the activity levels of most of today's stars, one has to wonder if it is contributing to the stagnancy of the sport. When a boxer is barely fighting, people's minds wander. It's hard to build on momentum or set up bigger fights in dramatic fashion when the activity levels are so low.
It's like a body of water. Not too long ago, boxers stayed active. The water was moving. It was crisp and alive. Now it's like a swamp. And the stench is becoming increasingly hard to take. I remember 20 years ago, the old-timers would complain about how how boxers didn't fight enough, comparing them to the fighters of old. Let's do the same thing, but only 20 years back–to 1992.
The best fighters in boxing in 1992 were (in no strict order) Julio Cesar Chavez, Pernell Whitaker, Terry Norris, Orlando Canizales, James Toney, and Buddy McGirt. Let's look at their activity levels around this time.
Julio Cesar Chavez: The 140-pound kingpin fought 6 times in 1992 and a total of 17 times from 1991-1993. Sure, he took his share of non-title fights and routine defenses, but fans at least got to see a lot of the top guy in the sport.
Pernell Whitaker: Fought 4 times in 1992.
Terry Norris: Had 3 fights in 1992 and made a total of 11 appearances from 1991-1993.
James Toney: Fought 5 times in 1992 and a total of 18 times from 1991-1993.
Orlando Canizales: Made 3 defenses in 1992 and 9 from 1991-1993.
Buddy McGirt: 11 fights from 1991-1993.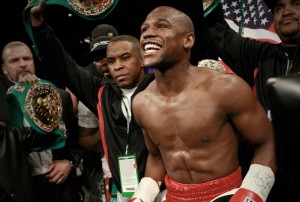 Fans got to see the best fighters on a regular basis. They stayed fresh in the minds of the fans. It helped build things to a crescendo to set up big fights. Let's look at some of the guys on the Proboxing-fans.com pound for pound top 10.
Floyd Mayweather: 3 fights in 33 months and now he's going to jail.
Manny Pacquiao: 2 fights a year for 3 straight years.
Sergio Martinez: 2 fights a year for 3 straight years.
Andre Ward: Deserves a break after the Super Six, but inactive for 7 months, with a fight with Chad Dawson apparently scheduled for September.
Yuriorkis Gamboa: Out since September with nothing scheduled.
Chad Dawson: 6 fights in the past 4 years.
Timothy Bradley: 1 fight in 2010, 2 fights in 2011.
That's a major fall-off from just 20 years ago. And when we think of all the major issues facing boxing today, which are numerous, we seldom discuss this part of the equation. But maybe this is at the root of many of these issues. Fans start to tune-out, so no fighters have any "sizzle" except for Mayweather and Pacquiao. And as far as superstars at the very top of the sport carrying the load, they're not doing a very good job considering their utter lack of ring activity–especially Mayweather.
But the other fighters besides Pac and Money May should be the ones who are worried. Their positions as stars have yet to be cemented. And one way to make sure you stay off the radar of fans is by putting your career in mothballs right when you get to the precipice of stardom. I don't profess to know what's going on in featherweight titlist Yuriorkis Gamboa's life or what snafus might have prevented potential fights from happening, but his career path is absurd. He was just starting to create some heat and now he's utterly invisible.
It's like everyone is waiting for the perfect spot. Those spots will come, but in the meanwhile–you need to stay busy and remain in the public eye. Absence does not make the heart grow fonder in boxing.