Fans Focusing on Other Match-Ups for Pacquiao Forget About What the Tijuana Tornado Brings to the Table:
On November 13, 2010, Dallas Cowboy Stadium will be the host of one of the most highly anticipated sporting events of the year: An event where, in most people's minds, one of the pound for pound kings of boxing, Manny Pacquaio, will cruise to yet another one-sided victory over another quality opponent in Antonio Margarito.  This fight will be for the vacant WBC junior middleweight belt.
It seems that instead of focusing on the upcoming fight itself, fight fans are dwelling on the questions and the what-ifs. What if Pacquiao and Floyd Mayweather finally did meet in the ring? When will Mayweather and Pacquiao fight? Why didn't Pacquaio choose to take on one of the many other high quality junior middleweight fighters but instead chose to take on the controversial veteran Antonio Margarito?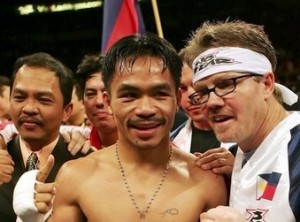 Most believe that there were many better options in terms of potential opponents for Pacquaio, which would enable him to continue his legacy and get primed for (hopefully) an eventual fight against Floyd "Money" Mayweather. Some of these opponents which may have been better fights for Pacquaio include the undefeated Timothy Bradley, Andre Berto who is at the prime of his career and is coming off of a very impressive TKO victory over Carlos Quintana, and of course, another great option would be "Sugar" Shane Mosley. All of these fights would be more reputable wins for Pacquaio and would get him ready to fight styles more similar to the slick, classic boxing style of Floyd Mayweather.
It is what it is now, and Pacquaio is not fighting any of the up and coming fighters yet. The fact is that he is fighting Antonio Margarito, who although he may not be the best matchup for Manny, is always one tough customer and he will certainly make Manny earn it.
Before you count Margarito out of this fight, there are a few things to consider including the noticeable size advantage that Margarito has. Margarito is a full 4.5 inches taller than Pacquiao and has a reach advantage of six inches. He is also a relentless attacker with a great chin, so if he can stand up to Manny's punches (many of which come from awkward angles) and use his size, reach and strength to his advantage, he may be able to fare better than just another victim of Pacquiao's relentless assault.
Also, recent news indicates that Pacquaio's focus while training for this fight has been questioned. According to his trainer, Freddy Roach, Pacquiao is playing around a bit too much in his training and sparring sessions and needs to get his game face on and start to get a little more serious.
When these two men meet in the ring on November 13, it should definitely be an interesting fight. Margarito will be the aggressor, using his height and reach to his advantage, while forcing Pacquiao to execute with perfectly timed punches from all angles, in a way that seemingly only he can do. I definitely have Pacquaio winning the fight, but expect Margarito to fight hard and don't count him out.
Comments
comments