Oscar De La Hoya's 40th Birthday Celebration Tainted by Bob Arum?
Oscar De La Hoya has been the bitterest rival of Top Rank's Bob Arum since the two boxing luminaries parted ways, and De La Hoya set up Golden Boy Productions. With the decline of Don King, Arum and De La Hoya have become the two biggest promotional powers in boxing. Yet Bob Arum is 81, leaving many to wonder how much longer he could compete before following following former rival Don King into semi-retirement. By contrast, Oscar De La Hoya turned 40 just today, February 4th, and is set to dominate the sport for decades to come.
That conventional wisdom was turned on its head when actress and model Shanna Moakler tweeted this morning that "Saw Arum in Vegas. Better lay than Oscar!"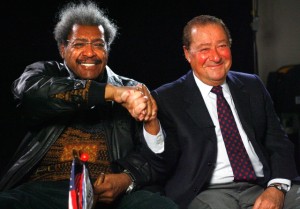 After continuing to pursue his "in-house" matchmaking strategy at all costs, torpedoing fights like Nonito Donaire vs. Abner Mares, and likely Floyd Mayweather vs. Manny Pacquiao before that, Arum has apparently decided to take his feud with De La Hoya, and their rival companies Top Rank and Golden Boy, to a very unseemly next level.
This sensational Tweet is just the latest incident, crowning a number of rumors that Arum, recently tabbed as "Scumbag" Bob Arum by certain internet sources, has been actively pursuing Oscar De La Hoya's old flames in a bid to prove he's the bigger and better man.
In 2000, Moakler filed a $62.5 million palimony suit against De La Hoya, which was later settled out of court.
None of Arum's other alleged sloppy seconds' conquests has come forward, but according to a source at TMZ who wished to remain nameless, the Top Rank honcho has "nailed" both former Playmate Layla Roberts and model Angelicque McQueen. "He apparently downed a handful of Viagras" said the source, "and spent most of the time boasting about how he had the bigger [expletive deleted] over De La Hoya." Arum has also been overheard declaring in public places that he was going to "put the horns on the Golden Boy," a statement implying his intent to seduce De La Hoya's wife Millie Corretjer.
No one at Golden Boy Promotions was available for comment, but Don King was quoted saying of his old rival "I ain't surprised. He always was a noisy, dirty old rooster."
This won't win Arum any new fans, however, is it exactly what he and Top Rank need in order to swiftly change the media buzz that his fighter, Donaire, is ducking Mares?
Meanwhile, one can only imagine what De La Hoya's return salvo will be to this ugly escalation of a personal feud.