If you're a diehard boxing fan, you are probably wondering why the fight game seems to slow right now. Boxing isn't a seasonal sport with an off-season, but now that Mikey Garcia vs. Orlando Salido is in the past, the fight game looks set for some sleepy hibernation until at least March and perhaps into April.
That isn't to say there aren't some worthwhile fights out there. February has some solid 140 lbs championship action, with Peterson vs. Holt (Alexander vs. Brook is now postponed due to injury). March sees two light heavyweight championship fights in Cloud vs. Hopkins and Dawson vs. Pascal II. These are a trio of good fights, but none of them are the sort of thing to set boxing fan forums on fire, none features a Top 10 Pound for Pound (P4P) fighter, and none are Pay-Per-View-quality match-ups.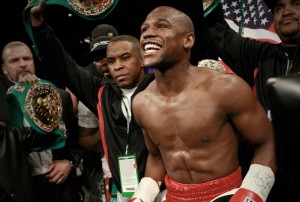 So where did the elite fighters of the sport run off to? A brief review of the P4P Top 10 and why none of them will fight until late April is in order:
Floyd Mayweather: "Money" was in jail until August, and didn't even announce his general intentions until December. He is now tentatively scheduled to fight Robert Guerrero in May, although that hasn't even been finalized.
Andre Ward: "SOG" is on the injured list, and had a scheduled fight with Kelly Pavlik cancelled after having surgery.
Juan Manuel Marquez: Marquez recently implied that he wasn't interested in a fifth bout with Manny Pacquiao. Whether he is angling for better terms in the fifth bout, wants to make Pacquiao eat his own medicine (Pacman spent three years avoiding a rubber match with Marquez), or really wants to call it quits, he has no short term alternative plans.
Nonito Donaire: Donaire has elected to steer clear of Abner Mares, and is looking at fighting in April against Guillermo Rigondeaux, or potentially Vic Darchinyan. While the Rigondeaux fight would feature two of the top 122-lbs fighters in an intriguing showdown, a rematch with Darchinyan would definitely leave something to be desired.
Sergio Martinez: The Argentine Marvel has a fight scheduled with Martin Murray in late April. Even so, it isn't really a big fight. Martin Murray is a good fighter, but barely even on the Middleweight Top 10.
Abner Mares: Donaire just ducked him, blowing the big fight he was angling for out of the water and leaving no immediate alternatives. Now, he seems set to move to 126 pounds instead.
Manny Pacquiao: In the wake of his knockout defeat to Juan Manuel Marquez, Pacquiao was said to be looking at a fight date for April or May, possibly in Manila. As it is now February and no opponent or venue has been chosen, that means May at the earliest.
Wladimir Klitschko: Let's face facts. He is the dominant heavyweight in the world and a legitimate Pound for Pound entrant, but when was the last time Klitschko the Younger did anything that got boxing and sports in general abuzz?
Carl Froch: "The Cobra" has a rematch with Mikkel Kessler scheduled in May, and that fight looks to be the biggest thing on the agenda for the first half of 2013. Froch also a pending, contracted rematch with Lucian Bute and an IBF-mandated defense against #1 contender Adonis Stevenson looming over him.
Yuriorkis Gamboa: Gamboa parted company with Top Rank last summer, with 50 Cent's and Floyd Mayweather's outfit buying out his contract. That outfit dissolved in November, although Gamboa landed on the undercard of the Marquez vs. Pacquiao IV fight in December (ironically promoted by Top Rank). Gamboa is now with 50's SMS Promotions, but finds himself in hot water after news surfaced that he was involved with a Miami-based PED supplier.