Wow, what else can you say? Nonito Donaire absolutely demolished Fernando Montiel in their bantamweight clash Saturday evening. That means it's time for a major shakeup in the rankings. Montiel had been in the top 10 pound for pound, and was also considered the number 1 bantamweight in the world. How high does Donaire climb, and how low does Montiel fall after the exciting, explosive knockout Donaire vs. Montiel results?
Updated Rankings as of February 20th: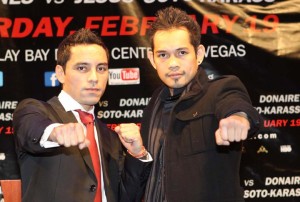 Donaire is now clearly the number 1 guy in the deep bantamweight division, and you can take a look at the rest of the top 10 there to see where Montiel drops down to, and which fighters from the bantamweight tournament are at the top of the list. But how high does Donaire climb in the pound for pound list? He's in the top 5, I'll tell you that much, but you'll have to view the rankings to see the rest.
There were plenty of other bouts from December to factor into our pound for pound rankings update as well. In addition to the Donaire-Montiel results, we also had Bradley vs. Alexander, Pascal vs. Hopkins, and a few other notable performances as well.
So take a look at our updated rankings and keep on checking back with ProBoxing-Fans.com for the latest breaking boxing news. If you missed the action, check out our Donaire-Montiel results and round by round here.