Following the flurry of big fights over the past few weekends, we're definitely due for an update to our top 20 pound for pound list. Our last update came in June, following fights including both Floyd Mayweather and Manny Pacquiao, who have been entrenched as the number 1 and 2 fighters in the world for years on end.
This time, our number 3 and 4 fighters, Sergio Martinez and Andre Ward, each have been in action, against Julio Cesar Chavez Jr. and Chad Dawson respectively. The question on a lot of people's minds is whether or not both Ward and Martinez could potentially leapfrog Manny Pacquiao in the top pound for pound list based on the strength of their recent victories.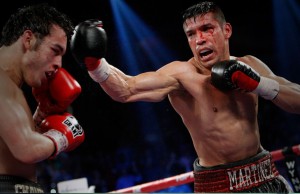 It's a loaded question, and it warrants a closer look at what "pound for pound" really means. According to our handy boxing terminology page, we define the term with the question: "If all fighters were the same size, which ones would be the best?"
However, there's certainly more to it than just that. In order to prove your skills, and the assertion that regardless of size, you're the better fighter than somebody else, you have to have the resume to back it up. Right now, for example, many people think that Adrien Broner is one of the best fighters in the world. But he doesn't have near the credentials to even sniff the top 10 of any legitimate pound for pound list.
So you have to have the foundation of skill, and you have to have the resume. The third key component is your current form, and the quality of your recent work. If skill and resume were the only prerequisites, then aging fighters wouldn't be penalized for losses or poor performance. In other words, once you reached a certain peak or level, you'd basically be there permanently. Clearly that doesn't make sense.
The final issue at hand when determining a fighter's pound for pound status, which is of course a rather subjective process, is how to weigh resume vs. skill and recent form, and how to compare those three factors from one fighter to the next.
That brings us back to the beginning, and whether Andre Ward, Sergio Martinez, or both, should leap Manny Pacquiao in the pound for pound rankings. My answer is yes, which is why in our latest list you'll see a top 5 that looks like this:
Floyd Mayweather (previously #1)
Andre Ward (#4)
Sergio Martinez (#3)
Manny Pacquiao (#2)
Nonito Donaire (#5)
Explaining the Pound for Pound Shakeup
I won't try to argue that either Ward or Martinez has a better resume than Pacquiao. That's not the case. It's the quality of their recent work and their recent form which warrants the moves.
Since questionably losing to Paul Williams in December 2009, Sergio Martinez took the Middleweight championship from a favored Kelly Pavlik, flattened Williams with his famous 2nd Round Knockout Of the Year in the rematch, knocked out three straight contenders in Sergiy Dzinziruk, Darren Barker and Matthew Macklin, and dominated the undefeated Julio Cesar Chavez Jr. for the majority of his fight, ultimately surviving a late scare to win by a very wide Unanimous Decision.
Since beginning his Super Six run with a rout of the heavily favored Mikkel Kessler in November 2009, Andre Ward took care of Allan Green and Sakio Bika, outclassed Arthur Abraham and Carl Froch, and most recently, took Chad Dawson to the woodshed in an 10th round stoppage victory against the top guy at the division above his own.
Each man has had a remarkable six-fight (seven for Martinez, including the Williams loss), three-year stretch starting at the end of 2009 in which he has absolutely cleared house against all comers. Martinez had to survive JCC, Jr., in the 12th, but stopped four of his six opponents, whereas Ward has scored only two stoppages, but has never been close to anything resembling peril. I'd also rate the overall strength of Ward's competition over that of Maravilla's, hence his position at number 2.
I'm certainly not downgrading Manny Pacquiao for the bogus loss to Timothy Bradley. However, it is worth noting that the Manny Pacquiao who obliterated Ricky Hatton and Miguel Cotto in 2009, would not have let Bradley survive the length of that encounter. Pacquiao's speed and burst is still there, but he no longer fights for the full three minutes of every round. His trademark flurries have been morphing increasingly more into 1-2-and-dones. He's more inclined to lay back and jump in, as opposed to open up with an all-out, fast and furious assault.
Prior to the Bradley fiasco, he had his third encounter with Juan Manuel Marquez. I scored that fight a draw, but believe that Marquez had the clearer case for victory, if anybody did. While Marquez has proven himself to have the Pacquiao antidote over the years, many had expected the now larger Pacquiao to have an easier time with his cagey Mexican counterpart. That didn't happen.
Before that, he fought Shane Mosley, Antonio Margarito and Joshua Clottey, an uninspiring and rather uninteresting three-fight stretch. His fantastic November 2009 effort against Cotto came before that, and as already mentioned, there's no denying it was a landmark performance. That brings Pacquiao to the same, nice and neat six-fight three-year window as Ward and Martinez.
The bottom line is that Ward and Martinez have done more and looked better since then.
Pound for pound rankings aren't set in stone, and a fighter doesn't get permanent status at a certain slot based on previous credentials. Today, right now, I believe that both Andre Ward and Sergio Martinez are better fighters than Manny Pacquiao, and in comparing everyone's recent outings, they have the track record to back up that claim.
Get in on the discussion and share your opinions on our new boxing forum.