All Recent Action Into Effect: Paul Williams-Erislandy Lara & Molina-Cintron…. Rico Ramos vs. Akifumi Shimoda… Brandon Rios vs. Urbano Antillon… Amir Khan vs. Zab Judah… Dereck Chisora vs. Tyson Fury….
Fight fans you're in for a treat, as we've gone on a rankings updating BINGE to bring many of the division's hottest and busiest divisions up to date with our latest top 10. This past weekend, the boxing world was busy and buzzing with big fights like Amir Khan vs. Zab Judah, and Tyson Fury vs. Dereck Chisora. Before that, we've seen a slew of other big name fighters in the mix, with Brandon Rios vs. Urbano Antillon, Paul Williams vs. Erislandy Lara, and on down the line from there. So, we've updated our divisional rankings for 5 different divisions all at once to catch up on the recent news and results. Check 'em out.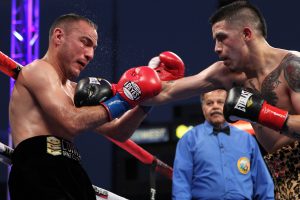 At super bantamweight, Rico Ramos won his first world title by coming out of nowhere to knockout Akifumi Shimoda, and he jumps up the rankings accordingly in a division that is starting to heat up. Rios vs. Antillon provided a ton of excitement while it lasted, and Brandon Rios continued to prove his chops as one of the top lightweights in the world in the process.
At 140 lbs, Khan dominated Zab Judah in the way that he was supposed to if he wants to be recognized as the top junior welterweight in the world and be in contention for future mega-bouts against the likes of Floyd Mayweather. But does the win catapult him past Timothy Bradley in the top 10 of the division?
Junior middleweight has seen a complete upheaval of the top 10, with Paul Williams "beating" Erislandy Lara, and Kermit Cintron losing to Carlos Molina. With Molina and Lara having their own history, there is suddenly a lot of interesting matches to be made at 154 lbs too. Oh, and there was also the Wolak vs. Rodriguez battle which turned in a fight of the year worthy encounter.
Then, the British boxing world took center stage with the Dereck Chisora vs. Tyson Fury match, a fight which many people didn't expect to see play out as it did. So how does the top 10 at heavyweight look?
All of these divisions have been updated reflecting the above recent boxing news and results, and other recent action. So be sure to check out all of the rankings and keep on coming back to ProBoxing-Fans.com for more of the latest breaking boxing coverage that you need!