When an opinion is widely held, it has a way of making a person forget about the facts and embrace the popular storyline instead. Over the last few years, conventional wisdom turned Manny Pacquiao into a nearly unstoppable hurricane of a fighter, and saying otherwise was like explaining why Iraq couldn't have  any WMD before the 2003 invasion: woe betide anyone who departs too far from the popular storyline. Yet in the wake of Saturday's competitive fight, a clear and frank reassessment of the Filipino dynamo is in order.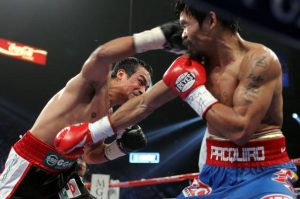 But first, I scored the fight 116-112 for Marquez, (the ProBoxing-Fans.com round by round had it even at 114-114) and most of those rounds were very close. I think the only reason I had Marquez ahead by two is because I don't like scoring rounds as 10-10 draws, and for much of the fight I thought he controlled the pace of the fight (ring generalship) and landed the cleaner, harder punches. That put him over the edge, albeit just barely.
It was the kind of fight that I can clearly see as going either way or to a draw, except that Marquez saw the scorecards go against him in the last bout under similar circumstances. Juan Manuel Marquez can now make the very justifiable claim that he eked out a victory over Manny Pacquiao twice only to be robbed both times, and from where I sit he should have gotten the nod on at least one of those two fights.
I was closer to the mark than most pundits in my predictions of what would happen in the Pacquiao vs. Marquez rubber match, but even I expected Pacquiao to finally win a clear decision over his arch-rival. Where I went wrong was in over-estimating Manny Pacquiao, for I too had bought into the conventional wisdom that Freddie Roach's schooling had improved Pacquiao's defense to such an extent that Marquez would find it much harder to hit the mark with his counter-punching. While it is clear that Pacquiao is a more polished fighter than he was just a few years ago, it is equally clear that the conventional wisdom is wrong. However more poised Pacquiao is, his defense is still firmly rooted in his offense, and not in any newfound boxing techniques.
Just before the fight, I said that this was one of the things to watch for, and despite the influence of popular opinion on my thinking, I was dead right. I could never get past the fact that while Pacquiao has torn through the welterweight division like a buzz saw, that division is fairly average by historical standards. Looking at Pacquiao's recent record reveals that:
Oscar de la Hoya: old, rusty, drained from making weight, focused on post-retirement career
Ricky Hatton: shopworn from boxing mileage and drinking too much beer, tailor-made for Pacquiao
Miguel Cotto: broken by Margarito's plaster-embedded fists
Joshua Clottey: tough, but nothing like fellow Ghanian Ike Quartey
Antonio Margarito: ordinary without his plaster hand wraps
Shane Mosley: powerful, but old, slow and with shot reflexes
In my book, de la Hoya, Mosely and Clottey illustrate the differences between today's welterweights and where the division stood in the 1990s. Even the most rabid Pacfan cannot make a respectable case that the de la Hoya and Mosley that Pacquiao fought were even as remotely capable as the two men were when they fought each other several years before. In 2007, Shane Mosley had already visibly lost a step, yet still had the stuff to stretch a prime Cotto to the limit. Ike Quartey in his prime would have walked down and worn down Clottey like clockwork.
It is hard to make a case for a guy having greatly improved defense when the recent record looks like Pacquiao's does and none of his recent opponents ever really tested that defense. I must admit to getting swept up in the hoopla, because while I never quite lost sight of the facts, I was also trotting along with the bandwagon. The result was that I split the difference.
Make no mistake, Manny Pacquiao is a great fighter with great accomplishments to his name. He has fast, hard hands and directs a relentless, all-angles assault at his enemies. Even more important in my book, Pacman has a powerful will to win and supreme confidence in his ability. However, as Marquez has demonstrated for the third time, if you can blunt and weather that assault, Pacquiao can be hit and hurt. Those are the facts, not infectious hype and fan fever.
Sidenote: I sincerely hope we see these two fight again. If Pacquiao vs. Mayweather doesn't come off in the next 12 months, there is no excuse to not have a Part IV instead, and either way I hope Manny Pacquiao doesn't make us wait another three years for a fourth installment.
Comments
comments