With Floyd Mayweather having outpointed Miguel Cotto and on his way to prison, Manny Pacquiao was preparing to fight Timothy Bradley in his first outing of 2012. It was an important fight, what with the controversy surrounding his majority decision win over Juan Manuel Marquez the previous year.
Some felt as though years of hopping through the weights and beating up bigger guys had begun to take its toll on Pacquiao. He was no longer a phenomenon, but a 33-year-old man showing more of his mortality by the fight.
Pacquiao Beats Bradley… But Loses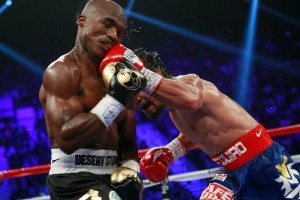 Pacquiao vs. Bradley was Bob Arum's way of keeping things in-house, but the truth was that at this point, Pacquiao was running out of legitimate opponents using this promotional method. Bradley, while a solid name, had only had one fight at 147 lbs – against Luis Abregu – and his most recent outing had been snoozefest against a past-it, blown-up Joel Casamayor.
Put simply, if Bradley had not been a Top Rank fighter, there would have been absolutely no clamor whatsoever to see him in a ring with Pacquiao.
Nonetheless the fight took place, but it's still hard looking back to fathom exactly what happened on the night. Pacquiao caused Bradley so much trouble with his hand speed and in-out movement that the American ended the second round with a swollen right ankle and pulled ligaments in his left foot.
Having survived the bombardment, Bradley made it to the final bell having impressed with his fortitude and a late-rally of small proportions. His reward was to say he had been the distance with an angry, motivated Pacquiao. He was given much more, though, with judges Duane Ford and CJ Ross seeing the fight in Bradley's favor, earning him a split decision win, and one of the most controversial big-fight decision in boxing history.
Pacquiao had won the fight but lost on the cards – his first defeat in seven years. There was an air of disbelief. Immediately everyone knew that the Mayweather/Pacquiao saga was on the ropes for another six months at least, as Pacquiao would need to rematch and beat Bradley (and win the decision) to have full credibility.
Bradley would spend almost one whole year on the shelf after the fight but Pacquiao moved on swiftly, buoyed by his re-found religious beliefs. He agreed to fight Marquez for a fourth time in an attempt to finally put the rivalry to bed.
Marquez Finally Breaks Through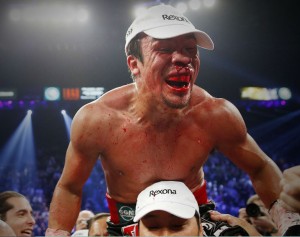 If Pacquiao was upset about the scorecards for his fight with Bradley, his next opponent knew the feeling. Marquez had fought evenly with Pacquiao on three separate occasions and had just one draw to show for it.
For Marquez this represented a last chance to claim what he felt was rightfully his. For Pacquiao this fight gave opportunity to bury the hatchet and return to winning ways.
Both aging warriors fought hard for the 18 minutes the fight lasted. Marquez entered new territory by knocking Pacquiao down in the third round, before Pacquiao returned with a knockdown of his own in the fifth. That fifth round was frenzied as a visibly hurt Marquez clung onto whatever faculties remained, combined them with bags of heart and fired back with his legs not fully underneath him.
He made it swinging into the sixth; a round that would be punctuated by one of the most memorable punches of all time.
Marquez had timed many counter right hand punches well in his meetings with Pacquiao, but none would connect so sweetly as the one he landed at the end of that fateful sixth round. With less than ten seconds remaining Pacquiao cornered his Mexican rival, only to be met with one of the most perfectly thrown shots he will likely ever have felt.
The shot immediately turned out Pacquiao's lights as he stumbled face-first to the canvas, lying prone on his face for a worrying amount of time. Cameras cut to his stressed wife at ringside. Panic was in the air as an idol had fallen. Marquez, meanwhile, jumped on to the ropes and stood proudly. Blood streamed from his nose, he was broken but unbowed. Finally, he had the win he craved; the win he felt he had already long deserved.
An epic contest had closed with a shattering punch and with it, the prospect of Mayweather vs. Pacquiao had never felt further away. Now, the question became not whether we'd see those two fight, but whether we'd ever see Pacquiao in the ring again.