While Manny Pacquiao was on the sidelines recovering from a stunning yet brutal one-punch knockout defeat at the hands of old rival, Juan Manuel Marquez, Floyd Mayweather was out of prison and preparing his latest comeback.
Mayweather signs to fight Guerrero…on Showtime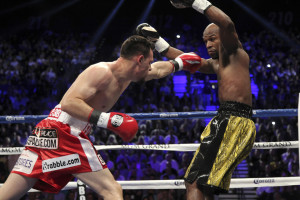 In early 2013 Mayweather announced he would return to the ring to fight Robert 'The Ghost' Guerrero. The fight had been in the pipeline and, for many, it represented a good enough challenge. It wasn't the fight that grabbed headlines, however.
It was also announced that the fight would be broadcast by Showtime, ending Mayweather's long-running relationship with HBO. In an age where the two rival TV networks had been fiercely competitive, this was a watershed moment.
Mayweather was, and remains, boxing's biggest pay-per-view star. Indeed, his nine HBO PPV fights garnered 9.6 million buys. Thus, his agreement with Showtime was big boxing news. Mayweather's signing on for six fights meant that the association was no short-term thing, either.
The Guerrero fight itself passed without much incident. Mayweather toyed with his opponent, who didn't have the attacking savvy to trouble him. The result was a wide points decision, and a successful beginning for Mayweather to his new Showtime deal. The question now was, with Pacquiao well out of the equation, who would he fight next?
Mayweather and Canelo: The veteran and the kid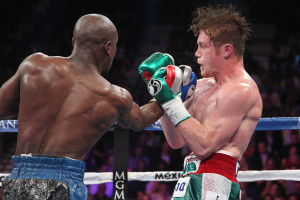 Having easily beaten Guerrero, Mayweather's next fight was received with much greater enthusiasm. He would square off with Mexican prodigy Saul 'Canelo' Alvarez in September.
Alvarez was, at 23, seen as the biggest young talent in boxing by the vast majority of the public and Mayweather's stepping back up to junior middleweight to fight him was viewed as a risk.
Canelo began cautiously, with Mayweather starting on the front foot. It was a slightly strange beginning given many felt Canelo would use his greater size to try and get at the older, naturally smaller man.
By round four Alvarez was showing no respect for his elder, refusing to touch gloves having landed a low blow. Urged on by a fanatical Mexican fanbase, Alvarez began to assume a more attacking posture as the fight went on.
It was Mayweather, however, who would establish supremacy. As the contest continued it became more and more clear who was the pound for pound number one, and who was the gallant young wannabe.
Mayweather's jab continuously landed with clarity, punctuating a fight that was slipping away from Alvarez. By the end of the fight, there was no doubt who had won, at least  in the minds of those watching from a neutral standpoint.
Shockingly, judge CJ Ross handed out an even scorecard of 114-114. At this point, boxing scribes feared a controversial draw that would further portray boxing in a seriously negative light. Fortunately, Dave Moretti and Craig Metcalfe saw the fight the way the rest of us did, handing Mayweather 116-112 and 117-111 winning scores respectively.
Ross would take an indefinite leave from the sport following an awful piece of scoring.
Mayweather was light years ahead of Pacquiao at this stage. He had just comprehensively beaten one of the shining prospects in the sport as part of a lucrative, game-changing television deal. Pacquiao, on the other hand, was still yet to fight since the Marquez defeat, and would eventually announce a comeback against limited brawler Brandon Rios.
As 2013 drew to a close, Mayweather was the talk of boxing yet again, while Pacquiao's future was in limbo.
Read the Whole Series: