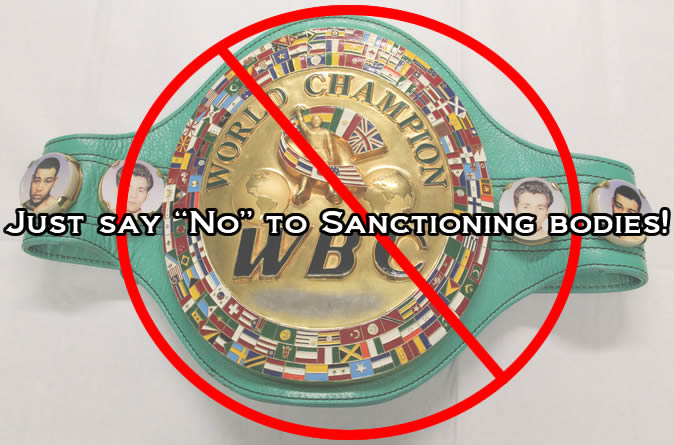 The rematch between Bermane Stiverne and Chris Arreola, an already absurdly-mandated proposition, has been touted as being for the "WBC Heavyweight Championship of the World."
Really? Don't let the fancy capital letters fool you — Stiverne vs. Arreola II is the "heavyweight championship" of absolutely nothing but a frequently corrupt business, one of many of whom are doing all they can to choke the life out of a once proud sport.
But let's be clear, this fight isn't the problem — it's a symptom of the problem. It's also the final straw for ProBoxing-Fans.com.
We've long been considering abandoning the fraudulent politics and maddening bureaucracy and cronyism of the sanctioning bodies, and have often reminded our readers when a fighter touted as champion in truth only had a "fake" belt, handed to him by one ridiculous parlor-room trick or another.
Today's the day we change course.
First, let's talk about Stiverne vs. Arreola II for another moment.
Wladimir Klitschko is the Heavyweight Champion of the World. That's it.
His brother Vitali may have had a claim to the throne, but his retirement did not create a championship vacancy. Period.
Let's forget that Arreola was humiliated against Vitali Klitschko, and never deserved a shot to begin with. Let's forget that he already lost clearly to Stiverne, who's only win of note is against… well, Arreola, if that counts. Let's forget all of that and pretend these were two of the top three or five guys in the division, not number 6 versus un-ranked. This fight would still not be a championship fight, and say it with me now, because Wladimir Klitschko is the Heavyweight Champion of the World.
Of course, we're not the first folks to think up such a grand idea. You may have heard of The Ring Magazine, for instance. However, instead of defaulting to them, and overlooking that whether they like or not, the fact that they're owned and operated by a promoter is a massive conflict of interest, we're creating our own divisional championships, with our own specific rules and regulations.
ProBoxing-Fans.com's New Ratings & Championship Policy:
1. We've always kept top 10 divisional rankings for every weight class in the sport, along with our top 20 pound for pound list. Those remain. However, each division will now have a champion installed, with 10 contenders beneath him. In many divisions, the number 1 guy we had ranked is now the champion, but that's not always the case — more on that below.
The pound for pound list, by nature, remains a bit more subjective, sometimes even speculative, when ranking fighters, whereas with our divisional rankings, we try to be as objective as possible. Who have you beaten? How did you perform in your recent fights? How dominant have you been? What has everyone else in the division been up to? How long have you been in the weight class?
Ultimately, we utilize a combination of man-who-beat-the-man logic, total resume and body of work, quality of performance, and the "smell test", a common sense approach to sniffing out what does or doesn't make sense.
2. There must also be a lineage in order to create the first class of ProBoxing-Fans.com Champions, which is why we're not starting from scratch. In evaluating each division of the sport, many of them already hold clear-cut top dogs who fought their way to championship status above their peers.
In such cases, those guys have been installed as our champions, and their lineage begins. In other divisions, where the contenders haven't sorted themselves out, the championship will remain vacant until they do so, as defined by the rest of our rules.
Here are the current, and first, ProBoxing-Fans.com divisional champions:
Heavyweight: Wladimir Klitschko
Cruiserweight: Yoan Pablo Hernandez
Light Heavyweight: Adonis Stevenson
Super Middleweight: Andre Ward
Middleweight: Sergio Martinez
Junior Middleweight: Floyd Mayweather
Welterweight: Floyd Mayweather
Junior Welterweight: Danny Garcia
Lightweight: Vacant
Super Featherweight: Vacant
Featherweight: Simpiwe Vetyeka
Super Bantamweight: Guillermo Rigondeaux
Bantamweight: Shinsuke Yamanaka
Super Flyweight: Omar Narvaez
Flyweight: Juan Francisco Estrada
Junior Flyweight: Vacant
Strawweight: Hekkie Budler
You'll find permanent listings of our current champions and our ratings policies on their own pages.
3. The classic rule of you have to beat the guy, to be the guy, applies to championship lineage.
4. Championships may become vacant when:
The champion does not defend his title against a top 10 contender within 18 months or does not face a top 10 contender in his division in three successive fights.
The champion permanently moves to another weight class.
The champion does not make weight for a championship fight or fails a pre- or post-fight drug test for a performance enhancing drug.
The champion retires.
5. A fight between two fighters can be raised to championship status when:
The championship is vacant.
The #1 and #2 ranked fighter face each other, OR
Two top contenders, whose combined ranking is no more than six, face one another, i.e., #2 versus #4 (combined ranking = 6) or #1 versus #5 (also 6) both qualify, but #4 versus #5 (combined ranking = 9) or #3 versus #4 (7) does not.
Declaring a fight as defined above as a championship match (besides #1 vs. #2) also requires evaluating the rest of the division's activity. For example:
Let's imagine #2 vs. #4, a qualifying match. Meanwhile, #1 is fighting #6 in a deep division. It may be hard to declare the winner of 2-4 a champion in this instance — the division is still in the midst of sorting itself out, as the top fighters are taking on other highly ranked, top fighters. Further, will the winners be fighting each other next, or was one dominant while another struggled?
If #1 faces #5, a technically qualifying fight, but it's a match in which he's a massive favorite due to his own status, and/or a division's lack of depth, is that really a championship fight? What if he clearly avoided #2 and #3 to schedule the fight?
Ultimately, the fight must pass the smell test. And declaring a fight as a championship match requires common sense — read more on that below. We should know when something should be regarded as the championship of the division.
6. A fighter may be declared champion in more than one division. The requirements to maintain that dual status are to face at least one top 10 contender in each respective division within no more than 18 months.
Important Notes & Details
First, we're in the midst of this overhaul right now. Expect to see the new format and championship status in our top 10 divisional rankings rolled out over the next few days. Now, here are a few other important notes:
On rigidity vs. common sense: Sometimes common sense is the best rule of all. We're not going to rigidly stick by "rules" which don't apply to specific situations. For instance, if a fighter blatantly loses a fight he should have won, should he still be champion of his division? What if there's a controversial finish or disqualification? What if somebody doesn't make weight or fails a drug test? What if somebody has been declining while taking on lesser challengers, and avoiding a high-rising fighter coming up in his division? What if a champion was injured, delays a fight, and then can't make his defense until several months past our typical deadline for a vacancy?
Point being, these are all case by case scenarios, and we're going to approach each scenario individually when necessary. Sometimes, the strictest of rules don't do anything except prevent you from making the correct judgement call.
We reserve the right to change our rules, consult with others, and generally do everything in our power to reflect the most accurate picture of the sport, and each division within it, as we can.
On "champions" and "titleholders" and alphabet soup: From now on, when we talk about a fighter or a fight, you may read that one guy or another is a titleholder. That he has to face this guy that nobody heard of because some other guy who got paid said so. Fine. He has a sanctioning body title, a belt. He is not our champion. You are only called a "champion" if you are regarded as our divisional champion.
In most cases, we will even refrain from referring to Fighter X as the ABC titleholder in his division. In other cases, knowing this still lends clarity to the discussion, we'll make a note of it.
On fighters who cherish their ABC belts: This is nothing against a fighter who has held the dream of becoming a world champion his whole life, and proudly asserts himself as such with one title belt around his waist or another. Those fighters can call themselves whatever they like, really, because they've earned it.
Of course, I also don't think they need to pay some organization 3% of their hard-fought earnings for that privilege either.
Maybe this is a small step in the right direction of one day, more clarity and structure becoming widespread throughout the sport, and fighters being able to keep more of their money, as opposed to succumbing to the whims of the sanctioning bodies for the supposed honor and recognition they bring to the table. If those sanctioning bodies don't have any "honor" to offer – the reputation and recognition and status – then that's a start.
The Last Word
So, to the WBC and their "World Heavyweight Championship" fight, Stiverne vs. Arreola II, thank you. You weren't the first, you were perhaps the 1,000th or 10,000th such absurdity to muddy up the waters of the Sweet Science, trickling in slowly at first before deluging the sport with madness down to its roots. For us here at ProBoxing-Fans.com, enough was enough.