"The reports of my death have been greatly exaggerated."  Mark Twain's famous quote fits the sport of boxing yet again. Multitudes of naysayers have been declaring the sport dying or dead for decades now.  Yet, boxing continues to come back over and over again like that one Baldwin brother on "The Celebrity Apprentice".
Boxing of late appears to be stabilizing its once wobbly legs, but can it return to its long departed, lofty prominence on the sports landscape?  There appears to be an invigorated spirit rising within the sport… but can we call it a Revival?
Let's review some of the happenings in the world of boxing and see how many "checks" it gets on my boxing revival checklist:
Get the casual fans back first
Before the sport tries to wrest viewers away from the latest reality shows on TLC (didn't that once stand for The Learning Channel?) it needs to get its own casual fan sect fired up and keenly interested again. To do this, over an 8-9 month stretch which we are currently in the middle of, the sport has put together a string of wildly intriguing fight cards featuring its brightest stars squaring off in numerous cities around the globe — Manny Pacquiao vs. Juan Manuel Marquez IV… Nonito Donaire vs. Guillermo Rigondeaux… Saul "Canelo" Alvarez vs. Austin Trout…. Floyd Mayweather vs. Robert Guerrero… there have probably been 10-12, high level, rock solid, can't miss bouts in addition to those. This steady diet of top notch matchups is creating a buzz among the sports' fans, which is beginning to bleed into the general consumer audience.
Getting the casual fans back first? Check.
Have a handful of ultra-marketable stars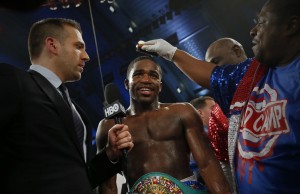 P.T. Barnum once said, "I don't care what people say about me as long as they say something." Floyd Mayweather is boxing's most recognizable star right now. He is a polarizing celebrity who has the allure to draw more non-boxing fans into the sport. Money-May is a walking, talking media machine. He is good looking, has famous friends, an inmate number, a penchant for partying, unparalleled trash-talking, second-to-none bling-flashing skills and supreme boxing talent.
Though he is likely winding down his Hall of Fame career over the next 2 years or so, there is another who appears to be poised to take his place: Adrien Broner. Broner is a 23-year-old, mini version of Floyd who seems to be working directly out of the Money May playbook.  The rising stars' upside is unmistakable and he too has good looks, a brash personality, run in with the laws and a live out loud approach to life.
Still, if you need an anti-Mayweather idol, boxing gives you Andre Ward. The bible quoting, clean-living "Son of God" Ward may already be the best boxer in the world. He is a "good guy". He is the one who wears the "White Hat" to Mayweather's "Black Hat". Ward too, can crossover into the marginal boxing fan base, to collect those who relish the good vs. evil angle of sports.
There are others, including Canelo Alvarez, the wildly popular, orange-coiffed rising Mexican star.  He too has good looks, elite talent and marketable persona, which should keep him in the public eye for years to come.  Mayweather, Broner, Alvarez, Ward and others, plus a bevy of other foreign fighters who are already huge draws in their home countries, can and will keep people talking in and out of boxing.
Handful of marketable stars? Check.
Tap into new global markets
Germany, The Philippines, South America, Londo… they all have a solid boxing base which helps to fuel the international appeal of boxing. But what about the worlds' most populous country? China is considered the great land of opportunity when it comes to business dealings.  ou will too often hear the talking heads on the 24-hour business cable channels touting the China market as the great driver and savior of global business.
Now, boxing may have a new Chinese star, helping the sport to drive its own popularity and gain access to massive potential viewership in China. On April 6th, 31 year-old, two-time Olympic gold medalist, Zou Shiming made his pro-boxing debut in Macau. Though disputed and unconfirmed, CRM Media reported that somewhere between 40 million and 140 million households, mostly in China, tuned in to watch Zou's 4-round debut.  To offer some perspective;  Nielsen reports that popular American shows, "The Voice" and "American Idol" are each drawing about 13-14 million viewers these days.
At the risk of sounding like one of the aforementioned, talking heads, getting boxing to gain a strong foothold in China would be huge for the sport. China has a population of about 1.3 billion people.  Do you realize how many Bob Arum bobble-head dolls and Zou Shiming lunch-pails you could sell to 1.3 billion people?
Not to mention that sponsors could easily be lured back to the sport by the prospects of reaching millions of consumers. This could allow more large boxing events to be shown for free as they would no longer need to be underwritten by pay-per-view fees, hence reaching an even broader potential audience.
Tap into China? Check.
Get celebrities to help cast the sport in a different light
No, we're not talking about Screech versus Danny Bonaduce here.  CBS was recently running ads showing NBA star Carmelo Anthony doing boxing workouts to cross-train for basketball. Lee Ann Rimes, Kelly Ripa and Gwen Stefani box to stay in shape. Robert Pattinson and Mario Lopez famously promote boxing as a way to keep their six-packs intact. This type of promotion has already caused traditional fitness gyms across the country to modify themselves to accommodate boxing as a workout option.
Many old-school boxing gyms, previously deemed as uninviting by "non-boxing" interests, have even discovered a new revenue stream as they re-tool themselves to be more appealing to the suburban crowds looking to mimic their favorite celebs workout regime. These celebrity endorsements are turning more people on to the sport and taking it out of the dark and into the light as a more palatable pastime for many.
Celebs promoting boxing? Check.  
Get cable networks fighting over you
Boxing currently enjoys regular event exposure on numerous cable outlets including ESPN, HBO, and Showtime, among others. A recent rematch bout shown on HBO between Brandon Rios and Mike Alvarado reportedly had 1.2 million viewers. This is a 45% increase in viewership over their first fight, which was only a few months prior. Growing numbers like these are no doubt helping to fuel other networks interest in broadcasting the sport.
We have recently seen a new arrangement with Fox where their new sports network, FS1, will create a weekly, primetime boxing show. We also watched a blood feud between Showtime and Golden Boy versus HBO and Top Rank play out in recent months that had those parties  fighting for their own broadcast interests of the sport like a couple of bloated "Toddler & Tiara" moms wrestling over the last uneaten strudel on the buffet table.  And let's not forget the potential of hundreds of millions of viewers in China. Getting millions of new viewers sure helps to sell sponsors and networks on the value in being a part of your sports' events. Certainly fervor like this would not exist involving a dying sport.
Cable networks fighting over you? Check.
Get your own reality shows to more viewers
As millions of viewers watched the final college basketball game of the season, they no doubt began to ponder what they will do to fill their time now that their March Madness brackets are done. Brilliantly, CBS puts Floyd Mayweather on live during halftime of the broadcast. Snatching the attention of a huge audience of soon to be idled sports fans and directing it to their star and upcoming programming is promotional guile even Donald Trump can admire.
Showtime recently kicked off its boxing reality (smarter people call it a Documentary) show "All Access".  This version of "All Access" covers the lead up to the Mayweather vs. Guerrero fight. In addition to its Showtime slot, "All Access" will also air on CBS Sports Network. CBS is also running a 1-hour reality  primetime special about boxing's ultra-recognizable star, called "Mayweather".
Meanwhile, HBO has announced it is relaunching its popular and wildly engaging docu-series "Legendary Nights", which will feature the Arturo Gatti-Micky Ward trilogy on its first episode. HBO shows some guile of their own as they choose to leverage the broad appeal of the Gatti vs. Ward wars to kick of its reality based show. The legendary 3-fight history of Gatti-Ward is so riveting and memorable; it will surely entice even the most distant boxing fan to tune in.  These new shows should also appeal to some non-boxing fans as well. Their compelling content should prove to be universally intriguing storylines.
Getting reality shows to more viewers? Check.
Return the Heavyweight Division to Prominence
Well…….let's just say that there is still work to do in this area.
Returning Heavyweight Division to Prominence? Incomplete.
With our checklist as a guide, it would appear boxing has begun its long ascent back towards its spot among the more popular entertainment choices. Sure, there will be some who continue to choose watching nationally televised karaoke contests and celebrities falling into pools as their preference for competitive-based entertainment. However, I think we are already starting to see many others rediscovering boxing and its inherent emotion, inspiration, drama and true entertainment value.
The road back for boxing is very long and one that is surely paved with missteps and setbacks. For now though, the current momentum in boxing has it headed in the right direction and has many seeing the sweetness in the science of boxing again.
Boxing revival started? Check.
Comments
comments