Where Does Manny Pacquiao Go From Here?
Manny Pacquiao, 34, is at a unique time in his career. He's lost a few fights along the way, but this is the first time since he rose to prominence that he's coming off a true disaster. His 6th-round stoppage loss to Marquez was graphic and scary. It's not easy to remember a fighter of his stature being so emphatically toppled.
For Manny, it can't end this way. He will spend the dwindling remainder of his ring career trying to atone for that image of him unconscious face-first in a Vegas ring. The most has to be made of every opportunity. At the most, we're dealing with a 2-fight window. Pacquiao must now find which route to take that gives him the best chance to go out with a bang.
Juan Manuel Marquez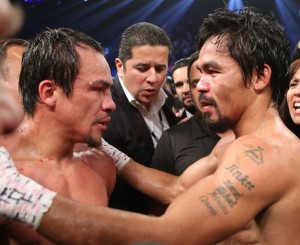 Marquez is the natural choice. But it shouldn't have even been this way. Pacquiao and Company should have left well enough alone. Marquez was all set to go down as Ken Norton to Manny's Ali. When they made the 4th fight and the build-up began, I was watching TV with someone, who said "Oh, they're gonna keep fighting until Marquez wins?" I was thinking that might be one of those prophetic remarks you sometimes hear from people who don't really follow the sport.
When you're promoting an older fighter with a waning window remaining, the last thing you want to do is match him with a super-dangerous fighter in a bout without much clamor. Sure, there's interest in JMM-Pacman now, but after the 3rd fight, people were OK with it. The vibe was essentially that Marquez just gives Manny fits. But Manny was still Manny.
The result of the 4th fight threw that into a different light. After all, Marquez is the only one who managed to produce a clear victory. What was there to gain? Pacquiao is supposed to be the meal-ticket. Marquez had three shots to produce a clear win and was unable to do so. Why keep going there?
So now he's stuck in the Marquez vortex–forced to spend the bulk of his remaining energies and his last few appearances attempting to address unfinished business with a 40-year old blown-up lightweight. If a few years ago, someone told this was how Pacquiao was going to finish up his career, you wouldn't have believed it. And the reason you wouldn't have believed it is because it would have seemed to be a ridiculous and unnecessary course of action. All risk and no real gain.
So we got stuck trying to resolve an irresolvable issue. OK–let's do it again. Why not? At least the last fight was a genuine barnburner. It will be interesting to see if Manny can somehow find another gear with a new set of circumstances abound. The fight will be pretty big and it gives Manny a chance to go out on a good note.
Timothy Bradley
Matchmaking is key now in Pacquiao's career. When a fighter in his mid-30's gets one-punched to sleep, their ability to take punches naturally falls into question. At this age with all those miles and following what happened in his last fight, Manny's ability to take a solid shot isn't going to get any better. Hopefully for Pacquiao, it hasn't deteriorated to Roy Jones levels. After getting knocked out by Antonio Tarver, it seemed like any solid shot to the head threatened to short-circuit Jones.
Timothy Bradley is a good opponent for many reasons. The only drawback is that unlike Pacquiao-Marquez, there is no real reason to want to see Pacquiao-Bradley II. Despite the decision, most have settled into the headspace that Pacquiao is the better man. But if Bradley can look good in his upcoming fight with Ruslan Provodinkov, combined with the image of Pacquiao's last fight and the fact that Bradley has a win over him on paper, it could become a more attractive match-up. Come to think of it, the first fight wasn't that bad, that is until the cards were read.
With Pacquiao now firmly in his twilight phase, avoiding another result like what happened in Marquez IV is a main concern. Bradley fits the bill nicely in this regard. Despite a menacing-looking physique, he is not really able to score stoppages at the top level. No one should be looking to get hit flush by "Desert Storm," but in 8 world title bouts, he has scored one stoppage and that came against a rapidly-declining Joel Casamayor. Keeping Pacquiao safe should now be a priority and having him face guys who aren't power-punchers is a good start.
Floyd Mayweather, Jr.
This sport is funny sometimes. You'll see fights get made when you least expect it. Therefore, don't be terribly surprised if it turns out this fight isn't completely off the table yet. At one time, it was a fight where the issue was who was going to win. Now those in the media are only split on whether Mayweather will win by decision or knockout.
That creates almost the perfect climate for Pacquiao. Not many expect him to win, so the pressure is off for a change. For a fighter who has been compared to Ali for his massive worldwide appeal, it would be a very Ali-like triumph. No, Ali didn't go out on top. Far from it. What he did manage to do was build his legacy scoring improbable wins. In that sense, it gives Pacquiao the perfect opportunity to cement his legacy before retiring.
The stakes would be higher for Mayweather. So much is wrapped up in his undefeated record. So Pacquiao would certainly have to acquiesce to Mayweather's demands–both financial and otherwise. Pride and promotional wrangling, longtime roadblocks for making this fight when it was a lot hotter, would probably get in the way again. The window on this fight is probably closed.
Wild Cards
Robert Guerrero: What if "The Ghost" could spring a big surprise and beat Mayweather? Even if that doesn't happen and he gives Floyd a really good fight, he could be an interesting option.
Devon Alexander: Has a belt and could probably be brought to the table with a payday. Alexander is a good opponent Manny could probably still beat at this point. It wouldn't be easy, but Alexander at least isn't a big puncher.
Danny Garcia: An undefeated champion, Garcia would be a dangerous foe for Pacquiao at this stage of his career. In addition, Garcia's Q-rating is probably lower than his actual merit as a fighter–the kind of guy a fading superstar should try to avoid. Nevertheless, it would be fun and give Manny a shot to score a truly substantial win before he fades into the sunset.
Brandon Rios: A guy on this short list who Manny should be able to beat. Rios is tough, but Pacquiao would probably be too sharp for him. Rios is still a young fighter with an unbeaten record and while not providing the perfect ending to Pacquiao's career, it would still be pretty good. Plus, it would be an action fight.
Canelo Alvarez: Coming off a knockout, it would seem to be a strange time to take on someone as young, strong, and big as Canelo, who usually steps into the ring in the 170's. It still might be a better style match-up then what would appear at first glance for Pacquiao. It's not impossible to imagine him using his speed and movement to edge out the young and unbeaten Mexican star. This would be a win where Pacquiao could retire and silence a lot of critics. Might be a little ambitious at this stage.
Comments
comments