There was a time in this sport's history where a loss would barely raise an eyebrow. Those times are not only gone, but the script has been flipped to the point where a loss or two can all but remove a fighter's name from the "Who's Hot" list. In some fighter's cases, they don't even have to lose for the public to sour on them.
In either case, it just doesn't take much nowadays for fans and media to begin nudging a fighter towards the scrapheap. In some cases, the notion is correct and, other times, they are jumping the gun in writing off a fighter. You can't help but feel a little badly for guys putting so much on the line who receive such a short leash, where the margin for error is basically non-existent.
Here are some fighters who were on everyone's mind a short time ago, only to be recently relegated to the fringes of our consciousness:
Juan Manuel Lopez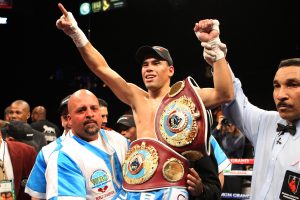 The case of Lopez almost embodies the modern view on losing. Before his April upset loss to Orlando Salido, he was part of any discussion involving the lower weight classes, the supposed frontrunner of a great featherweight explosion that was occurring. The guy takes one butt-whipping and now he's in the dust pile?
Truthfully, his defense has been so shaky that the cause for concern about his career is justified. Fighters only last so long when they are so painfully easy to hit. At the same time, this is a man who blew through guys like Daniel Ponce De Leon, Gerry Penalosa, and Rafael Marquez and looked like a juggernaut during a 3-year title run.
How he bounces back is critical. It wouldn't hurt for him to build a healthy respect for the punching power of his opponents. 18 months from his 30th birthday, Juanma is not a kid anymore. If he wants to rebound from the Salido loss, he might not need to re-invent himself, but an adjustment or two is certainly necessary.
Celestino Caballero
Another frontrunner of the featherweight explosion that never quite materialized, Caballero was the choice of many as the best of the batch. He had nice credentials, ungodly size for the weight, a high work-rate, and a ruggedness that belied his string-bean frame.
After beating Daud Yordan resoundingly in 2010, Caballero was riding high—unbeaten over a 6-year stretch including 10 world title fights. Late in 2010, he lost a decision to Jason Litzau in a gigantic upset. People figured that perhaps he had just grown stale waiting for a big fight at 126 and got outhustled by a guy fighting for his career. But after he lost a split decision to WBA featherweight titlist Jonathan Barros in July, we looked up and noticed that Celestino is 35 years old.
Word is the Barros decision might have been a bad call, so Caballero is getting another chance. If he wins, there could potentially be some big fights still to be had. It's just strange that no one talks about the guy anymore. A darkhorse pound-for-pound entrant merely a year ago, Caballero now languishes on the fringes of relevance.
Yonnhy Perez
A victim of tough scheduling, Perez got pigeonholed into fighting one toughie after the next. In succession, he faced Silence Mabuza, Joseph Agbeko, Abner Mares, Agbeko again, and Vic Darchinyan. As part of the Showtime Bantamweight Tournament, he was obligated to face the last 3 opponents, but the wear and tear he absorbed during this rough patch is beyond dispute.
A year or two ago, Perez was like an Energizer bunny with the punch resistance of Gumby. He was tireless—sponging or rolling with punches, before dishing it back out to his opponent. As he moved through this 5-fight stretch, the affects began to show. By the time he got to Mares, he looked a little over-ripe, as if he could use a break. But he really hit a wall in consecutive defeats to former victim Agbeko and Darchinyan—two one-sided affairs that saw Perez lose all his mojo.
Perez looks like an old fighter now. He was built up very carefully and then given a trial-by-fire that was a bit over his head. Maybe a nice extended break can help restore some of the qualities that made him a top guy a short time ago. The road back, however, could be bumpy. The odds are against him.
Paul Williams
It's like he went from Riddick Bowe 1992 to Riddick Bowe 1997 overnight. A year ago, he was a guy people couldn't stop fawning over. He was the "most avoided man in boxing" and a title threat from 147-168 pounds, combining freakish size with a intense punch-rate and ability to get down and dirty.
Then Sergio Martinez leveled him late in 2010 in the year's most emphatic big-fight result. It was the kind of flattening that can put a dent on a guy's resolve. A lot of people wrote him off based simply on that one result. It's like he disappeared off everyone's radar. Then he resurfaced in July, earning a majority decision against Erislandy Lara.
Those who hadn't blown him off after the Martinez fight surely stuck a fork in him after the Lara fight. He sponged dozens of squarely landed left hands from the southpaw Cuban. After 12 rounds, nearly everyone had him a loser except the 2 judges who voted in his favor. The backlash from the apparent robbery only made it worse on Williams. It would have almost been better if he simply lost the fight.
A year ago, he could do no wrong and now there are more people who would like to see him retire before he gets hurt than there are those who fancy his chances for a another title run. It just shows how quickly things can turn around in this business.
Dmirty Pirog
While he never scaled the heights of some on this list, Pirog looked like an awfully classy contender, especially after bashing favored Daniel Jacobs for a 5th-round stoppage in 2010. Unlike other Russian imports, Pirog had a sophisticated look—high on slickness and boxing ability with an obvious power streak.
Now, it's as if he fell off the face of the Earth. When big fights at 160 or possible opponents are discussed for Sergio Martinez, his name barely comes up. That wasn't the case a year ago, as Pirog was mentioned among the middleweight elite and even fancied by some in the hardcore set as a potential champion.
His career direction has been puzzling. He had finally built up some heat, only to squander it in the midst of inactivity and irrelevant opposition. After beating Jacobs, he waited 8 months before facing anonymous Javier Maciel in a fight no one saw. Now he has a fight this week against Gennady Martirosyan—presumably the love-child of Gennady Golovkin and Vanes Martirosyan. I'm not sure where to watch the fight. Pirog is simply becoming a difficult guy to follow, precisely at the time when you'd think some exposure would be what the doctor ordered.