Who will land a date against S.O.G.?
When Andre Ward finally canceled his February bout with Kelly Pavlik, he acknowledged the need for a lengthy recovery and put himself on the shelf for the immediate future. Given Ward's status as a P4P contender and as super middleweight top dog in recess, his return is certain to shake up the 168 and perhaps even the 175 lbs divisions. Ward himself has speculated on his willingness to travel to the U.K. to face Carl Froch in a rematch, but in reality nothing is clear about what the future may hold for SOG, particularly given that Froch is now locked into facing George Groves this fall.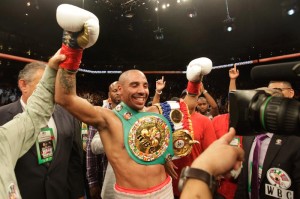 First, while I don't doubt the validity of Ward's shoulder injury, I do wonder if he isn't malingering with a purpose. Ward tried to get out of his promotional contract with Dan Goossen, and he might be prolonging his time on the shelf as part of a promotional dispute.
Another complicating factor is that the longer Ward stays on the shelf, the greater his need for a tune up of some kind will be when he comes off it. Plunging right into a rematch with Froch, should he defeat Groves, or challenging Adonis Stevenson at 175 lbs, might not be at the top of his agenda at that time. And yet a third factor clouding the picture is what the 168 lbs division might look like after the summer or later on this year.
Despite the murky waters, some sound guesses can be made:
Kelly Pavlik is not on the menu
When Ward cancelled, Pavlik announced his retirement. Given that Pavlik's career has been marred by alcoholism, other health issues, a calamitous fall from the pinnacle of the sport, and an ultimately futile 2011-12 comeback, I think he might very well be sincere when he says he is getting out while the getting is good. I doubt Pavlik will return just because Andre Ward picks up the phone and asks. Even if he did, Pavlik would have needed a fight or two in the interval to remain a viable sell, and that's not happening.
Ward will take a tune-up
As I indicated, Ward will probably want a tune-up before taking on a major challenge. Even so, since we are talking about Andre Ward here, the tune up won't be against a journeyman. Instead, I expect a lower tier contender. A rematch with Saiko Bika or a guy like Librado Andrade sound perfect.
Another outside possibility is that Ward may take care of his WBA mandatory challenge by fighting interim (super fake) beltholder Stanyslav Kashtanov. "Who?" you ask. Exactly. I have a hard time seeing even Ward versus this total unknown from the Ukraine making it on television, so more likely is that the WBA will oblige by feeding Ward a different mandatory.
Edwin Rodriguez?
If you look over the June WBA rankings, George Groves is #2 and Edwin Rodriguez is #3. Both are looking good right now, especially Rodriguez after his big win over Denis Grachev. Groves tied up with an engagement with Froch, and while that doesn't disqualify him from fighting Andre Ward, he isn't favored in that fight and might not look so good coming out of it. If I had to chose a hot new super middleweight to fight in the next six months, that would be Rodriguez.
Boxing's sages understand full well that the Froch vs. Kessler rubber match might not happen or might not happen soon for a variety of reasons, and if it does, that doesn't imply that the winner will want to fight on terms agreeable to Ward. This sort of thing has happened before. So, if Ward wants a marquee opponent and can't get his old Super Six rivals in the ring, that leaves Rodriguez, or the outside possibility of George Groves. Failing that, Adonis Stevenson is out there too.