Rumors continue swirling about Manny Pacquiao's next opponent — along with when and where his next fight will take place. The usual options seem to be on the table, but which fights would make the most sense for Pacquiao at this point in time?
Most signs are pointing towards an April fight for Pacquiao in Macau, although other Asian sites have also been floated, including a homecoming fight in Manila. Pacquiao hasn't fought in the Philippines since his 2006 fight against Oscar Larios. And while Freddie Roach believes Pacquiao should move immediately to a fifth fight against Juan Manuel Marquez, that's not necessarily the most likely option.
Working on the assumption that Pacquiao will indeed fight in April, here's a list of the top 5 potential opponents for him.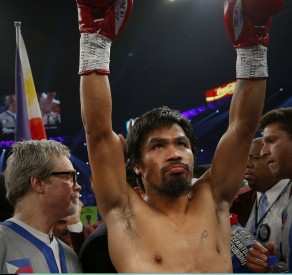 1. Brandon Rios: The undefeated Brandon "Bam Bam" Rios remains the best opponent for Manny Pacquiao. He has a super fan-friendly style and he's a recognizable name. More importantly for Team Pacman, he's there to be hit. He's a ferocious fighter and he's more than capable of absorbing punishment, but he won't be able to cope with the speed and diversity of Pacquiao's attack.
A fight against Rios presents Pacquiao with his best chance to get a dominant, exciting stoppage victory over a top-level opponent. With each man in the Top Rank family, it's also a realistic fight to put together.
2. Danny Garcia: Danny "Swift" Garcia is slated to face Zab Judah in February. It's a fight he's expected to win, and surely he'd be open to a quick turnaround for an April fight against the Filipino sensation. As perhaps the number 1 fighter at 140 lbs, depending on where you'd like to rank Marquez, Garcia is more than legitimate in terms of competition. Garcia also has defensive deficiencies, although certainly not as glaring as those of Rios.
3. Josesito Lopez: Imagine if Josesito Lopez cashes in with another fight against one of the big superstars of the sport? And why not? He'll always bring his "A" game, and you can't hold the one-sided loss against Saul "Canelo" Alvarez against him. He's fan-friendly, but for Pacquiao, should be relatively easy-pickings as long as he has recovered from his own recent knockout defeat.
4. Robert Guerrero: Guerrero would be a major challenge for Pacquiao. Besides presenting a southpaw vs. southpaw match-up, "The Ghost", currently ranked #11 pound for pound by ProBoxing-Fans.com, is rugged, versatile and rangy. He's also riding a wave of momentum right now and would enter the fight confidently. With Golden Boy promoting him, and the above stylistic difficulties, I wouldn't expect to see Pacquiao vs. Guerrero anytime soon.
5. Juan Manuel Marquez: Despite what Freddie Roach wants, I don't believe we'll see Pacquiao vs. Marquez 5 in April. Coming off two straight losses, Bob Arum and Co. are going to look in a different direction. The fight being held in Macau, or Manila, speaks to the fact that it likely won't be against an opponent the caliber of Marquez. Pacquiao fighting in such a locale is an attraction all to itself, and signals that a lesser opponent for lesser money can be brought in without damaging the event's status.
Stay tuned for more updates, and hopefully we'll have official word on Pacquiao's next fight soon.