Sergey Kovalev Is Our New Light Heavyweight Champion:
It's no secret that Sergey "Krusher" Kovalev has long been viewed as the man at 175 lbs., even as he remained ranked beneath lineal champion, Adonis "Stevenson" Superman. Kovalev may have been the man, but Stevenson beat the man who was the man. Such goes boxing.
Still, at ProBoxing-Fans.com, we instituted our own divisional champions with a unique set of ratings policies to try to prevent such smack-your-forehead-stupid-but-still-technically-correct boxing occurrences. Our rules state that championships become vacant if and when:
"The champion does not defend his title against a top 10 contender within 18 months or does not face a top 10 contender in his division in three successive fights."
His fight against Andrzej Fonfara, unimpressive showing as it was, had forestalled this from happening earlier. Yet, his just-announced fight against Tommy Karpency was the final straw, marking the 3rd clear fight beneath our standards, and further punctuating a several year downward trajectory which has seen one man, Kovalev, clearly eclipse the other man, Stevenson, in terms of quality of opposition, performance against that opposition, and willingness to take on all comers, including the other.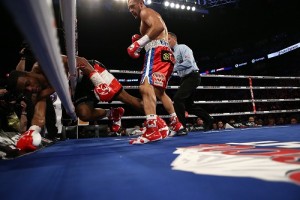 The truth is that even if Stevenson had not technically violated his standards with this fight, we'd still be stripping him right now. In fact, it's with this exact type of situation in mind that we instituted our "Rigidity vs. Common Sense" approach to rankings and championships:
Sometimes common sense is the best rule of all. We're not going to rigidly stick by "rules" which don't apply to specific situations. For instance, if a fighter blatantly loses a fight he should have won, should he still be champion of his division? What if there's a controversial finish or disqualification? What if somebody doesn't make weight or fails a drug test? What if somebody has been declining while taking on lesser challengers, and avoiding a high-rising fighter coming up in his division? What if a champion was injured, delays a fight, and then can't make his defense until several months past our typical deadline for a vacancy?

Point being, these are all case by case scenarios, and we're going to approach each of them individually as necessary. Sometimes, the strictest of rules don't do anything except prevent you from making the correct judgement call.
Stevenson brutally kayoed Chad Dawson over two years ago, on June 6th, 2013. Even then, while Dawson was the 175 lbs. champion, he was coming off a lopsided stoppage loss to Andre Ward in his previous match. Regardless, Stevenson inherited his championship.
He's fought five times since, keeping admirably busy. He started off strong, taking on former titlist Tavoris Cloud and pummeling him into submission. Next came Tony Bellew, who had done little to deserve the fight but was a decent opponent. The Fonfara fight came next, during which each man hit the deck, and Fonfara came away with added respect and accolades despite losing the match. Dmitry Sukhotsky came next, and no further explanation is needed there. Sakio Bika then leaped up from 168 lbs to make his light heavyweight debut in a championship bid against Stevenson, and here we are.
In that same time period, Kovalev has fought eight times, an even more admirably busy schedule. He annihilated the likes of Cornelius White, then unbeaten titleholder Nathan Cleverly, Ismayl Sillakh, Cedric Agnew and Blake Caparello. He then dispatched of the ageless Alien himself, Bernard Hopkins, cruising past the legend, and stopped Jean Pascal, before making a mandatory defense against Nadjib Mohammedi.
In most cases, we'd simply strip the undeserving champion, and leave a vacancy at the top. However, Kovalev is clearly this division's kingpin, and he does not need to face another challenger to prove it. Further, while the politics have been clouded since, Kovalev was calling and angling for a fight with Stevenson for quite some time. Stevenson more or less switched networks to avoid the match.
Kovalev has long been the man at light heavyweight. Now he has the hardware to prove it. Superman may still have his cape, but Krusher has the crown.