The Biggest Breakout Win in Boxing for 2011
A lot of fighters enjoyed surprising, breakout moments in 2011. But which one was the biggest, and the best? One guy stands atop the heap, and in the words of Jim Lampley announcing a Manny Pacquiao fight… Bang! Bang! No wait, make that… Bam… Bam!
2011 Breakout Performance: Brandon Rios TKO10 Miguel Acosta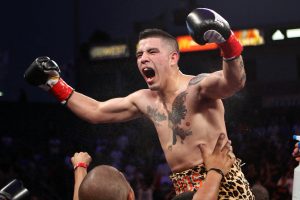 Brandon "Bam Bam" Rios was 2011's breakout fighter of the year, and his journey began in February when he met highly regarded titleholder Miguel Acosta. The slick Acosta came out quickly and took the lead in the early going, however Rios's shots began to wear him down.
By the middle rounds, Rios was in full-on stalking mode, and Acosta was retreating and trying to survive after being sent down in the sixth and eighth rounds. He would be put down again in the 10th before the referee called it off, and Rios became the new WBA lightweight champion.
If one breakout performance wasn't enough for you, Rios made a second lasting impression in his three round war against Urbano Antillon in July. Antillon was viewed as a tough and durable contender, and Rios just plowed right though him.
The two wins so thoroughly and quickly established Rios as one of the best lightweights in the world, that it's easy to forget that prior to 2011, the biggest win of his career came via disqualification against the undefeated but untested Anthony Peterson.
Rios lost his title on the scales before he spent half an hour brutally rearranging the face of challenger John Murray, and will be campaigning in 2012 at junior welterweight, where he will be instantly viewed as a force to be reckoned with.
Don't forget to check out the rest of our 2011 boxing awards for dozens of different year-end awards and honors!
Runners-Up
Lamont Peterson SD Amir Khan: One of the biggest upsets of the year took place in December when Peterson defeated Khan and took home his junior welterweight titles via split decision in front of his hometown fans in Washington D.C. For Peterson, the significance of the win could not be overstated. Before delivering this performance, he was a fighter who was solid enough to be a legit title defense for a top guy, but he wasn't cut of championship material himself. Well, he stepped up his game in a major way in the Khan fight, and no matter what happens next, Peterson broke out as a top-tier fighter with the win.
Nonito Donaire KO2 Fernando Montiel: You can call this Donaire's re-breakout moment. He broke out the first time when he brutally kayoed Vic Darchinyan, but then his career largely fizzled for several years before he got this big fight, pitting two top 10 pound for pound guys against one another. Donaire made another concussive impression on the big stage, making sensationally quick work of Montiel, and bringing him KO of the Year honors.
Victor Ortiz UD Andre Berto: 2011's Fight of the Year was April's contest between welterweight titleholder Berto and Ortiz, freshly moved up from 140 lbs. After losing to Marcos Maidana, Ortiz seemingly stalled with his career, and he had gone from can't miss star to afterthought and massive underdog. Ortiz pulled out the upset in this action packed firefight, and it earned him his date with Floyd Mayweather. That didn't turn out in his favor, but his star appeal was cemented nonetheless.