The Most Avoided Man in Boxing for 2011
Sometimes elevating your status and becoming recognized as an elite fighter doesn't do any favors for you. In boxing, unlike other sports with set schedules, you can be too good for your own good. In the NFL, you might not want to line up against Drew Brees or Aaron Rodgers, but when the Saints or the Packers are on your docket next Sunday, c'est la vie. Not so much for the sweet science, of course.
When you're a tough match, but you don't provide the biggest purses, nobody wants to step up to the plate to take you on. Such was the case for one top 5 pound for pound fighter in 2011.
Most Avoided Boxer in 2011: Sergio Martinez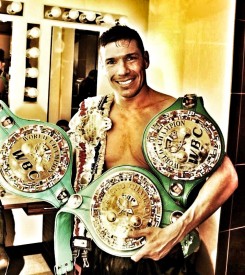 Maravilla was 2010's Boxer of the Year, thanks to his title win over Kelly Pavlik and his KO of the year over Paul Williams in their rematch. The world should have been his oyster in 2011. Only, things didn't pan out for Martinez thanks to many of the biggest names in the sport steering quite clear of the middleweight champion.
There were occasional murmurs that Floyd Mayweather or Manny Pacquiao would step up and challenge Sergio Martinez at a catchweight under 160 lbs. Neither of those fights materialized, and, truthfully, who can blame Mayweather or Pacquiao for that? Neither is a big man at welterweight, and fighting a skillful, powerful middleweight fighter is a risk neither felt much obliged to meet head on.
Don't forget to check out the rest of our 2011 boxing awards for dozens of different year-end awards and honors!
Martinez was unjustly stripped of his WBC middleweight title, which was essentially given straight over to Julio Cesar Chavez Jr. Chavez Jr. was of course not allowed within 100 miles of Sergio Martinez at any time thanks to Bob Arum and Top Rank. The rest of the middleweight scene is largely filled with titleholders like Felix Sturm who are quite happy to toil away in Europe while feigning ignorance of the existence of some guy named Sergio Martinez in their division.
Meanwhile, a rubbermatch against Williams was a nonstarter due to Williams falling off the face of the earth, while other junior middleweights like Miguel Cotto and Saul Alvarez angled for dates with the guy who has Martinez's rightful belt, Chavez Jr., and continued ignoring the challenges of Maravilla altogether.
So it was that instead of any major bouts, Maravilla fought respected 154 lb titlist Sergiy Dzinziruk, then viewed as the number 1 guy in the division, and trounced him. Following that, in the fall he took on middleweight Darren Barker and eventually earned a stoppage win after a slower than usual start.
Now it seems like he is likely to take on Matthew Macklin on St. Patrick's Day in New York City. It's a worthy middleweight title fight, and a shot that Macklin has earned, but it's not like it's a marquee date for Martinez.
He's going to be 37 in February, and the clock is ticking for him to get in those major bouts.
Hey Sergio, in your next fight, try to look a bit more vulnerable, and maybe you'll get a big name dancing partner in 2012.