Boxing's Top Trainer for 2011
The current boxing landscape features a handful of big name trainers who seem to work with the lion's share of the top boxers in the world. The more success you have as a trainer, the more big names come to your stable, and the more success you have. That's why we all know and always keep seeing the same guys working the corners, fight after fight. But which trainer stood out in 2011 and helped his fighters achieve the most?
2011 Trainer of the Year: Robert Garcia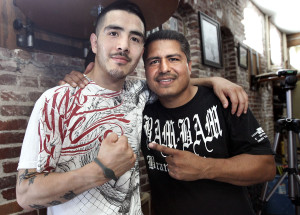 Robert Garcia was a very busy man this year. His star pupil, Nonito Donaire, scored the knockout of the year over Fernando Montiel, and exploded onto the pound for pound scene. He followed that up with an ugly, but clear, win over a compaclent Omar Narvaez, and now he's readying Donaire to a move up to super bantamweight.
Another one of his chief charges, Brandon Rios, had a phenomenal run in 2011, fighting three times and getting three stoppage wins over Miguel Acosta, Urbano Antillon and John Murray. He captured the WBA crown from Acosta, coming from behind in a thrilling match, and he defended against Antillon in a three round war. Just as he became the premiere lightweight fighter in the world, Rios will now be jumping up to 140 lbs as he can no longer make weight there.
Of course, Robert Garcia also works with his younger brother, Mikey Garcia. Garcia is now 27-0 with 23 knockout wins, and should be in line for a major fight against a legit titleholder in 2012. He stopped fellow unbeaten Matt Remillard in March, then stayed active with two more contests.
While Garcia couldn't help Antonio Margarito defeat Miguel Cotto, the mere fact that he was working with Margarito was enough to help lend some credibility to his comeback efforts.
And perhaps the biggest sign that as a trainer you're hitting your stride in these times, is that if you consistently follow boxing, you always saw Robert Garcia, all year long. He was involved in a countless number of major fights and big cards, and every time you turned on a fight, it seemed like there was a 50/50 shot that Garcia would be in the corner, growing his Oxnard stable one champion at a time.
Don't forget to check out the rest of our 2011 boxing awards for dozens of different year-end awards and honors!
Also Worthy of Consideration
Freddie Roach: Manny Pacquiao's 2011 campaign wasn't his best to date. He whitewashed the mummy of Shane Mosley, then couldn't solve the riddle of Juan Manuel Marquez, yet again. Roach's other star pupil, Amir Khan, had been rising and rising, but then suffered a setback as he lost to Lamont Peterson. Julio Cesar Chavez Jr. though has continued to improve, and has become a legit top 10 middleweight. Roach is also working with cruiserweight Lateef Kayode, and scores of other prospects and contenders.
Gabriel Sarmiento: Sarmiento has helped to shape Sergio Martinez into one of the premiere champions and fighters in the game. He also works with the improving Lucas Matthysse, quick-rising prospect Javier Fortuna, and more.