Top Questions, Notes and Thoughts from Andre Ward vs. Carl Froch and the Conclusion of the Super Six:
With the Super Six Tournament over and done with, boxing fans are left with a bit of a void. The tournament had reliably produced intriguing and top-tier match-ups in the division for more than two years. So what's next in the super middleweight division, and for Andre Ward and Carl Froch? What did their fight and the tournament all mean? Here are the key takeaways from the Ward vs. Froch Super Six Championship match.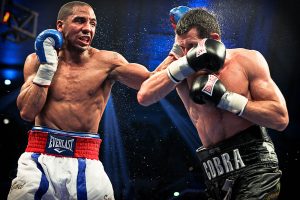 The Versatility of Andre Ward: Andre Ward has proven himself to be one of the most versatile fighters in the game. If he needs to break out superior, crisp boxing ability, he can draw upon his stellar, gold medal winning amateur career. When he needs to mix it up, he'll step inside, take you out of your rhythm, tighten up his shots and rough you up. Whatever Ward needs to do to win a fight, he'll do. He has the power to keep opponents honest, the chin to prevent them from taking away his own offense and aggression, and the heart to battle through adversity. After the win over Froch, Ward has been bumped up to number 4 in our pound for pound rankings.
Super Six a Success: The Super Six World Boxing Classic hit plenty of snags on its way towards completion. Fighters repeatedly dropped out. There were controversial endings. It took too long to complete, and promoters could barely work out the deals to get it all done. But at the end of the day it was a huge success for Showtime, the fighters and promoters involved, and the entire sport. 12 fights, 7 fighters, 3 stages, 2 years and 1 champion later, it was a winning proposition. It was a rarity in boxing: a reliable property with worthy matches and name fighters. In fact, it's the type of event that network television could get behind. Paging CBS, were you watching Showtime's tournament?
Where Does this Leave Carl Froch?: Froch has had perhaps the toughest 7-fight stretch of any currently active boxer. Jean Pascal, Jermain Taylor, Andre Dirrell, Mikkel Kessler, Arthur Abraham, Glen Johnson and Andre Ward. Going 5-2 with those opponents is impressive. However, Ward outclassed him, Kessler outfought him, Taylor had him beat until he got caught in the 12th, and many would argue that Dirrell should have gotten the nod over him as well. So where does Froch stand among the top of the super middleweight division? Is he an elite fighter or a damn good fighter that will never quite breach that upper echelon? We'll have to wait and see for the answer to that one.
Is Ward vs. Bute Next?: When Lucian Bute signed a multi-fight deal with Showtime, it was obvious that the intent was to match him up with the champion of the Super Six Tournament. So is that what we'll get next? Ward vs. Bute will match two undefeated, top pound for pound boxers and the number 1 and 2 fighters at 168 lbs. However, Ward might relish an easier title defense, and Bute has to prove he's willing to get in there with the best. It's one of the must-make fights of 2012, so let's all hope it gets done as soon as possible.
Will Andre Ward Graduate from Super Six to Superstar?: One of the ideals of the Super Six tournament wasn't merely to produce intriguing and competitive fights at the top of the division, but to also produce several stars and big-name properties. Ward was clearly the class of the tournament, so will he graduate from Super Six to Superstar? Boxing fans only have so much more time to enjoy Floyd Mayweather and Manny Pacquiao, and if anybody is the heir apparent, it's Andre Ward. But does he have what it takes to capture the public's imagination and crossover to the mainstream? Will he be a pay-per-view attraction? It's another question that needs time to be answered, but as an undefeated American with a wholesome image, an Olympic gold medal, legit championship credentials and more, if he's not boxing's next superstar, something went wrong.