As we begin to dig our teeth into what will hopefully be a delicious 2013 for boxing, it's worth checking up on the health of the sport. Last year brought some great fights to the shores of Britain, where boxing was given the opportunity to thrive on terrestrial television. However, there were also controversial instances outside of the ropes that scarred the image of the sport, while competition with the strong global brands of other sports continues to be a headache for our noble art.
A cliche it may be, but some say that in order to know where you are going, you must know where you have been. In this vein, here I will assess how boxing fared in Britain throughout 2012 and speculate over where it could be twelve months down the line.
2012: In the Media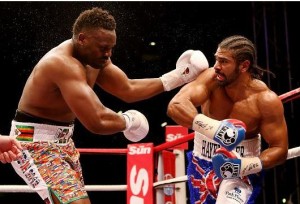 The year began in inauspicious fashion as two of the county's best heavyweights; Dereck Chisora and David Haye came to blows at the post fight press conference for Chisora's world title challenge to Vitali Klitschko. "Scuffle" is a polite term for their behavior. Chisora bore down on Haye ominously and, as he did so, Haye rammed a right hook into his rival's face – a decision made all the more dangerous due to the fact that his right hand was equipped with a glass bottle.
The melee dragged the sport's name through the mud. Newspapers that had already enjoyed vilifying Chisora intensified their focus on the bad blood. Chisora had seen his reputation gone from bad to worse already in a two day span which also saw him slap and spit at Vitali and Wladimir Klitschko respectively.
The announcement of a decision for the two to settle matters in the ring under a Luxembourg license only added to the scandal, with sections of the media once again inaccurately forecasting the premature death of boxing. Accurate or not, the scenes at that press conference that night in Munich were distasteful and opened boxing up to a series of public body blows it could well have done without.
More positive news was to come, however. Boxing did not die but in fact flourished via several television outlets. Channel 5 has committed to providing a terrestrial viewing opportunity for the sport, one that the likes of Tyson Fury, James DeGale, Chris Eubank Jr and Kid Galahad have enjoyed. Indeed, figures for Fury's showings regularly entered the seven figure mark. Elsewhere, BoxNation celebrated its first birthday with the aforementioned Haye-Chisora bout at Upton Park and continued to dedicate itself to showing quality fights on a regular basis.
Sky Sports did not help boxing, however, when announcing it was cutting its quantity of boxing events from around 40 to 20 for the new boxing season. The reasons for this decision could well be found in the increasing demand for Premier League football, with BT entering the fray and pushing up the price for that product. This, coupled with Sky Sports' increasing focus on other sports, such as Formula One, for which it has set up a dedicated channel, may be the reason boxing finds itself the subject of reduced exposure on the Sky Sports network.
2012: In the Public
Boxing was not the toast of the general public in the aftermath of the aforementioned Haye-Chisora fiasco, though it did add to its appeal through other mediums.
Former cricket legend Freddie Flintoff announced his intention to enter a professional prize ring and that he did, with a documentary series following his path through the trials and tribulations of training, sparring and mental preparation for a fight. The fight was well received by the public, which could only have increased the chances of boxing crossing over to the general public.
David Haye attempted to rebuild his tarnished reputation by entering well known ITV show – "I'm A Celebrity, Get Me Out Of Here!" He clearly did himself a favor, finishing as the third placed contestant as voted for by the public.
Boxing featured positively at the London Olympic Games, where three Britons picked up much-coveted Gold medals. Anthony Joshua and Luke Campbell won the men's super heavyweight and bantamweight medals respectively, whilst Nicola Adams gained Team GB's first female boxing Gold and won crowds with her charming personality. The success saw funding for the sport increase exponentially, with a 44% rise a culmination of the hard work the British boxing team had put in the preceding years. With credit to coach Robert McCracken and the fighters, it is exciting news for the sport at grass roots level.
2012: In the Ring
Boxing delivered inside British ropes last year. Anthony Crolla and Derry Matthews served up a classic, Carl Froch tore through the previously undefeated Lucian Bute, Ricky Burns and Kevin Mitchell got it on in what was a long-awaited all-British lightweight showdown and Ricky Hatton made a temporary yet much publicized return.
[Also See: 2012 British Boxing Awards]
Certain British titleholders suffered. Nathan Cleverly just couldn't get his year up and running with a series of meaningless fights, while Amir Khan lost twice, the second time by vicious knockout, leaving him on a comeback trail entering 2013.
To combat this though, several prospects continued their ascension. Scott Quigg and Carl Frampton both emerged as genuine super bantamweight world title contenders and continued their budding rivalry while Tyson Fury and David Price did the same thing at heavyweight. Tony Bellew put himself in the frame for a WBC final eliminator fight with three impressive wins and Gavin Rees earned a shot at talented lightweight titleholder Adrien Broner.
Prospects for 2013
There are fights aplenty on the horizon for British fans to get excited about, as well as an exciting crop of young prospects. Negotiations are already underway for Carl Froch to meet Mikkel Kessler in Britain in a rematch of their 2010 classic which took place on Kessler's native Danish shores. Dabvid Haye has been long campaigning for a crack at Vitali Klitschko, something that looks increasingly likely with every passing rumor. Ricky Burns has also stated his desire to tackle Adrien Broner in the USA for what would amount to lightweight supremacy.
Promotional issues could spoil the prospects of other fights occurring. Tyson Fury and David Price would be a behemoth of a British heavyweight title clash should it happen, and Carl Frampton and Scott Quigg would get pulses racing were they to finally meet. Past rivalries such as George Groves-James DeGale and Nathan Cleverly-Tony Bellew are also in need of greater resolution following close exchanges first time around. The chances are the majority of these fights will end up in the melting pot throughout this year, though they could be ready to order come 2014.
On the whole though, British boxing is in good health. Multiple television channels are interested in showing the sport, BoxNation provides a dedicated and improving coverage, amateur support has increased, there are many quality prospects on the way up or on the verge of a world title shot and the country is in possession of one of the realest titleholders in the sport in Carl Froch.
Perhaps those oracles of doom who foretold of the sport's imminent demise should give their glasses a clean, because boxing in Britain is still here and far from flatlining any time soon. Perhaps with the aforementioned fights to look forward to, come the end of 2013, the heart of this sport may well be beating faster than ever.