Fight Pick – Mayweather vs. Berto Prediction:
On Saturday, September 12th at the MGM Grand in Las Vegas, Nevada and live on Showtime pay-per-view, Floyd Mayweather returns to the ring against Andre Berto. The fight, billed as Mayweather's last, has been largely derided. But what should we expect from the action, and does Berto have any hope of an upset? Let's take a look.
Meet the Fighters
[tabs type="horizontal"][tabs_head][tab_title]Floyd Mayweather[/tab_title][tab_title]Andre Berto[/tab_title][/tabs_head][tab]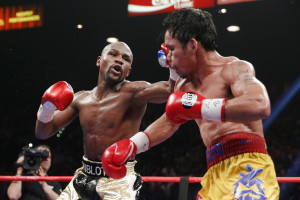 Record: 48-0-0, 26 KOs

Height: 5'8″
Reach: 72″
Best wins: TKO10 Diego Corrales, MD Canelo Alvarez, UD Manny Pacquiao, UD Miguel Cotto, TKO10 Ricky Hatton, UD Juan Manuel Marquez, UD Jose Luis Castillo (twice),TKO8 Genaro Hernandez, UD Zab Judah
[/tab][tab]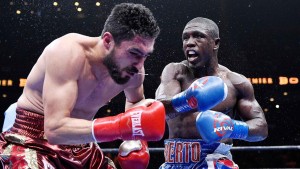 Record: 30-3, 23 KOs

Height: 5′ 6.5″
Reach: 68.5″
Best wins: UD Luis Collazo, TKO5 Jan Zaveck, TKO6 Josesito Lopez, TKO8 Carlos Quintana
[/tab][/tabs]
Mayeather vs. Berto Betting Odds
Floyd Mayweather: -10,000
Andre Berto: +1,600
Sign up for Bovada today & get a 50% deposit bonus
Mayweather vs. Berto Preview
This fight has been slammed by most, with Berto just 3-3 in his last six fights, including a stoppage defeat to Jesus Soto Karass as he struggled through a shoulder injury. After twice serving as the route to get to Mayweather — both Victor Ortiz and Robert Guerrero defeated Berto and then fought Mayweather next — now Berto gets his own chance. Surely fans would have preferred the likes of Amir Khan, Keith Thurman, Kell Brook or Shawn Porter.
That said, I think the diatribe has been a bit over the top. It's a bad fight, but not an awful one. While he's not currently ranked in our top 10 at 147 lbs, he's not far out, likely sitting as the next guy up, making him the #12 ranked fighter in the world. In dominating Josesito Lopez in his last outing, he just took out another fringe top 10 guy.
So, while I don't love the fight, I don't think it's the worst thing I've ever heard of, and setting those odds of Mayweather at -10,000 and Berto at +1,600 is ridiculous, and tells you more about Mayweather's domination of the sport than Berto.
Of course, perhaps I'm not bashing the fight as much as others because I'm simply refusing to give any credence to the notion that this is Mawyeather's last fight. It absolutely is not.
I've long said that Mayweather will move up to middleweight and make an attempt at another division title and 50-0 against the Cotto-Canelo winner. It's far too good of an opportunity to pass up on.
Even if Mayweather goes in a different direction though, he'll still want to reach that 50-0 mark. It's such a pretty, ego-stroking number — isn't it? — and he surpasses Rocky Marciano at the same time. There is no chance this is Mayweather's final fight.
Mayweather vs. Berto Prediction
Berto has the speed and power to make for an interesting couple of rounds — as Shane Mosley and Zab Judah did, each hurting Mayweather in the early goings of their respective fights. Once we get to round 3 or 4 though, expect this to be all Mayweather.
He'll dictate the action, walking Berto down behind his jab. Berto is wide open to be hit, and Mayweather will take full advantage. Jabs to the body will further open Berto up for Mayweather's go-to straight right lead upstairs.
I believe that one of the reasons why Mayweather selected Berto as an opponent is because he believes he has a chance to score a stoppage, a feat which has eluded him in the latter stages of his career. In his last 13 fights stretching over nine years, he has only won by stoppage twice: his 10th round TKO over an unbeaten Ricky Hatton in December 2007, and the protect-yourself-at-all-times 4th round KO against Victor Ortiz in September 2011.
Berto has been stopped once and sent down in several other fights, but more importantly than a sometimes shaky chin is his recent tendency to swell and cut around the eyes. If Mayweather has successfully done early damage to Berto's visage, expect him to continue lighting it up and forcing the corner's hand to throw in the towel.
It's still unlikely, as Mayweather could have gone for stoppages and hasn't against many dominated opponents, including Manny Pacquiao, but it's a possibility to keep in mind. Screw it, I'll make it my pick to keep things interesting.
Prediction: Mayweather by TKO10