Mayweather vs. Alvarez is Set –
It's official, the highly anticipated Floyd Mayweather vs. Saul "Canelo" Alvarez is locked and loaded for September 14 at the MGM Grand in Las Vegas, Nevada. The fight will headline a Showtime pay-per-view card, and will take place over Mexican Independence Day weekend, a traditional big fight date. It is the biggest bout which could be made in the sport right now, and it's also the toughest fight out there for Mayweather.
The Mayweather vs. Canelo bout was long presumed to be next for both men, but it's great to see this one finalized nice and early, ending the unnecessary speculation, and allowing all parties to simply focus on the fight ahead. Mayweather announced the decision on Twitter.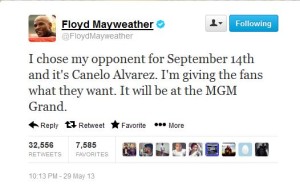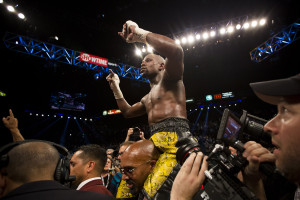 Mayweather vs. Canelo will be fought at a catchweight of 152 pounds. There had been some talk that Mayweather wanted Canelo to come down to welterweight, but in reality, that was surely just a negotiating tactic.
Still, on fight night, it's likely that Canelo weighs at least 165 or 170 pounds, offering him a large size and strength advantage. He also has youth and power on his side, presenting a unique challenge for Mayweather to face in his career. Of course, Canelo has never fought anybody that approaches Mayweather's skill-set for experience.
Mayweather (44-0, 26 KOs) is currently rated as the number 1 pound for pound boxer on the planet. He's also the number 1 fighter at 147 lbs.
ProBoxing-Fans.com currently has Canelo Alvarez (42-0-1, 30 KOs) ranked at number 14 on our pound for pound list. He's the number 1 fighter at 154 lbs — but only because we don't rank fighters in two divisions. Otherwise, Mayweather would still be regarded as the top man in that division as well, and Canelo would be number 2.
Most recently, Canelo earned the biggest win of his career, edging fellow undefeated Austin "No Doubt" Trout, and finally gaining the type of victory he has needed to back up his star power, potential and hype. Mayweather easily got past Robert Guerrero in his last outing, turning back the top challenger available at welterweight.
Mayweather vs. Canelo Alvarez is a great fight. It's the fight we all wanted to see, and it should be great event for fight fans. Get ready for three and a half months of nonstop buildup and hype for this one!