One of the most common, and most commonly fabricated, story lines we've seen heading into Saturday night's Floyd Mayweather vs. Manny Pacquiao fight is that it's the meeting of the top two pound for pound fighters in the world. That's not the case, and it's actually laughable. There's simply no way that you could get me to believe that Pacquiao deserves to even be in the top 3. Or the top 5, for that matter.
View the ProBoxing-Fans.com top 20 pound for pound list here.
Manny Pacquiao was brutally kayoed four fights ago. He was left in a face down heap on the canvas, with trainer and wife both admittedly, if only momentarily, fearing he had somehow been killed. It is an outright outrageous claim that he has erased enough of that to be regarded as the second best fighter on the planet for any reason beyond marketing strategy. Not possible.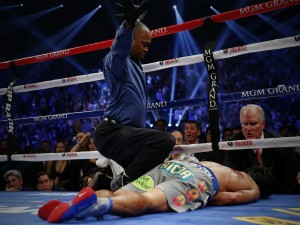 This photo was taken less than two and a half years ago. Pacquiao has only fought three times since then. And while it would be easy to tout the super-impressive combined record of 82-1-1 for those three men, it's more honest to say Brandon Rios was a tailor-made mismatch; Timothy Bradley was the guy we already saw him dominate but get jobbed against, but a very nice win nonetheless; and that Chris Algieri never had a chance.
Beyond Floyd Mayweather in the top position, here's who we have ranked ahead of Pacquiao, whom we rank at #6:
#2 – Guillermo Rigondeaux is an unbeaten fighter so very talented that he's begging his own mandatory challenger for a fight. He's shown no flaws, besides not providing the networks with much selling-power to make himself actually be shown.
#3 – Roman Gonzalez has torn through three divisions while piling up knockouts, notable wins and sparkling 42-0, 36 KOs, ledger. El Chocolatito has even managed to get his next fight rare major-television exposure for the Flyweight division, despite any previous stateside presence.
#4 – Andre Ward would unquestionably be regarded as the pound for pound number 2 if not for his inactivity and stalled momentum. The accomplishments in the ring speak for themselves.
#5 – Juan Manuel Marquez, as in, you know, the guy who threw the punch that left Pacquiao motionless on that very same canvas, and previously gave Pacquiao all he could handle and then some over their first three fights.
I welcome any fight fan to chime in with their opinion in the comments below, and explain to me how Pacquiao deserves to be ahead of a single one of those fighters, let alone all four of them.
Comments
comments