The prospects for a fifth installment of the Juan Manuel Marquez vs. Manny Pacquiao series look mixed, with Pacquiao promoter Bob Arum alternating between talking like the fight is a done deal and saying it can't possibly happen until later that April 2013. Even so, the idea of another clash between these arch-rivals is much-spoken of in boxing, and many fans look forward to Part V in a way they did not for Part IV.
Yet beneath all the buzz, the question of whether a fifth Marquez vs. Pacquiao fight is a good idea has gone largely unasked. What does another bout earn for the fighters, beyond just another big payday? And would the fans be getting their money's worth?
Good for Marquez?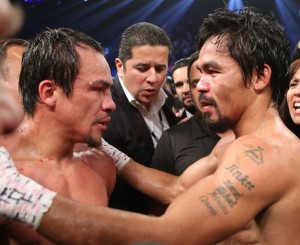 Marquez is taking a major gamble in meeting Manny Pacquiao for a fifth time. Consider that the tally for this series stands at 2-1-1 for Pacquiao on paper, but with both of Pacquiao's wins coming as close, questionable, and controversial decisions, whereas Marquez's win was a decisive Knockout of the Year. Throw in that Marquez's knockout is currently the last square in the series, and Dinamita comes away as the de facto victor of the rivalry, even if Paquiao hangs on to paper, de jure rights.
Fighting Pacquiao again offers Marquez the chance to consolidate that standing by becoming the clear, undisputed victor, but do to that he has to win. Decision, stoppage or knockout, if Marquez wins he dispatches Pacquiao once and for all. Yet if Pacquiao wins, even in another controversial decision, the waters are muddied and Marquez loses his de facto victor standing.
Unless he gleaned something about Pacquiao that the rest of us didn't (always a possibility, since he was in the ring with him), this is a huge roll of the dice for Marquez. The stakes are enormous for his legacy, and therefore a fifth fight looks very imprudent for Marquez. The smart money says "you got your revenge, now go enjoy it."
Good for Pacquiao?
If the reigning King of Mexican Boxing is betting big on a fifth fight, Manny Pacquiao is doubling down on his wager. If he wins, Pacman vaults back up to the #2 or #3 P4P slot in the world, reclaims much of his lost luster, and reasserts (or to some, asserts for the first time) his dominance over Marquez. If he loses, that's three losses in a row (don't forget the controversial loss to Timothy Bradley), and he comes out losing the series with his Mexican arch-rival on all counts. In short, a loss makes Pacquiao the vaunted "Mexi-Slayer" no longer.
Yet Pacquiao undoubtedly needs the rematch with Marquez more than visa versa. The only win that would mean more to Pacman than one over Marquez would be Mayweather, and that looks most unlikely. He needs a spectacular splash to rally his once-rabid fan base, who have proven very fickle and fair-weather in the wake of his knockout loss to Marquez, and Marquez is the only one who can give him that big splash.
For Pacquiao, this fight isn't prudent either. Nonetheless, it is a must-do proposition for him. To take some second-stringer on in Manila won't do.
Good for Boxing?
This is the only unqualified "yes" in the equation. These guys always produce a good fight, and the stakes for both men have never been higher than they would be in a fifth encounter. Talk about action and drama! Oh yes, whatever might happen in Marquez vs. Pacquiao V, the fight fans are hands down the winners.
Comments
comments