Up until last week Robert Woge (10-0, 9 KOs) did not even know if he was going to participate on the bill of the European Light Heavyweight Championship between Eduard Gutknecht and Juergen Braehmer at the Max-Schmeling-Halle in Berlin on February 2. But not only will the prodigy of coach Ulli Wegner be part of the night, he will also get his first shot at a professional title, when he takes on Hakim Zoulikha (18-3, 9 KOs) for the vacant IBF Intercontinental Title.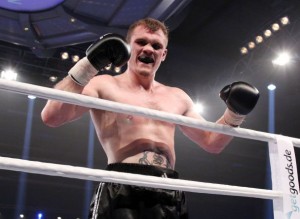 Woge, who is known for his spectacular and hugely entertaining style of fighting, is rewarded for his professional attitude when it comes to training. "I'm constantly keeping myself in shape. This sport isn't just my job it's also my greatest passion. That is why I kept myself active right after my last fight against Serhiy Demchenko on November 3. And that showed during the latest fitness test – I have improved in almost every aspect," says the light heavyweight.
The only downside to this opportunity: "It is very unfortunate that I got this chance because of the injury Yoan Pablo Hernandez sustained. We train together and he is a friend of mine. But obviously, he couldn't compete in a championship fight with a fractured
hand. However, I believe that he is happy that I have now earned myself a shot at a professional title. He will keep his fingers crossed for me", said Woge.
The 28-year-old is currently preparing himself for Zoulikha at training camp in Kienbaum. "I am in great shape. The training got more intense at the beginning of January. However, I know that I do not have an easy task ahead of me when I square off with Hakim Zoulikha. His record is good and he has some victories over tough opposition to his name."
Hence, Woge is counting on the support of the fans. "I will probably be a bit more nervous than I am normally as this championship opportunity came out of nowhere. That's why the fans are very important. I am hoping that the people in Berlin will stand firmly behind me."
Tickets for the big fight night at the Max-Schmeling-Halle in Berlin, Germany can be purchased at www.boxen.com and www.eventim.de.