If you follow boxing, then you've already heard the news that the Floyd Mayweather vs. Miguel Cotto fight is basically a done deal for May 5th at the MGM Grand in Las Vegas. That's not a bad thing – Mayweather vs. Cotto was at one point one of the best fights to make in the sport, and even today, it matches up the #1 welterweight against the #1 junior middleweight in the world, as ProBoxing-Fans.com has Cotto ranked as the top dog at 154 lbs. Not too shabby for a back up fight.
One thing that's interesting is that even with Mayweather-Cotto locked up, Money Mayweather is still taking shots at Manny Pacquiao. Figuring, perhaps, that he can't punch him in the ring, Mayweather will instead take some shots at the Pacman from the comfy confines of his Twitter account.
Right after word came out officially that Mayweather would take on Cotto, Mayweather said this on his Twitter account:
I'm fighting Miguel Cotto on May 5th because Miss Pac Man is ducking me.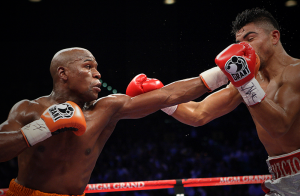 The shot heard round the world therefore is calling Manny Pacquiao "Miss Pac Man". Zing.
It's not the first time that Mayweather has jabbed his pound for pound rival on Twitter. About a month ago, he sent the boxing kingdom into a frenzy when he told Pacquiao to "step up punk".
That didn't lead anywhere, as the two sides still couldn't come to an agreement to get the fight made before Mayweather's suspended jail sentence begins on June 1st. The latest round of disagreements included everything from the money split, to the date and site of the bout, and a litany of disagreements from there.
However, that doesn't mean that a Pacquiao vs. Mayweather fight is dead. It's just dead for now. There has already been chatter that the two men would meet at the tail end of 2012 – perhaps in November, giving Mayweather time to train after he gets out of jail.
Therefore, Mayweather is keeping up his usual tactics by staying in perpetual negotiation, leverage and hype mode. It is what has helped him to shift public opinion in his favor over the past month of failed negotiations.
His next opponent is set – and it's a solid fight that fans should be happy to see, particularly as a mere back up for the mega-fight against Pacquiao. However, his entire focus and the sole trajectory of Mayweather's career is still headed straight towards a fight against Pacquiao, or at least the public perception of that desire.
So, even as he should be talking about nothing but Cotto, he takes a shot at Pacquiao one more time to make sure everyone knows where he stands, and to keep the fire burning for a few more months until, perhaps, maybe-just-maybe, the fight gets made for the end of the year.