In the sport of boxing, fighters are not only defined by their win-loss record but also by the manner in which they acquire said record.  In addition, a large percentage of boxers choose a nickname early in their career that they believe will serve them well in many aspects.  While not exclusively linked with success in the sport, these names can boost recognition and marketability. Most nicknames relate to an aspect of the fighters style in the ring or can even have unique stories that explain their genesis. Some nicknames have been passed down over generations in the world of boxing, and going by that moniker is a signal of confidence and a potential forebear of great things to come in the future.
One of the most famous and recognizable of these nicknames is of course "Sugar". Many boxers over the years have adopted this as their alias, but only a few have truly earned the title. "Sugar" is a universally revered nickname as it has been linked to some of the most successful fighters in history.
Chief among them of course is "Sugar" Ray Robinson. Robinson is widely considered as the greatest pound for pound boxer in the history of boxing.  This is due to his exemplary record over a long career, as well as the quality of opponents he faced. He excelled in the welterweight and middleweight divisions throughout the 1940s and 1950s. He finished his career with a record of 173-19 with 108 knockouts and spent nearly 26 years in the game. Muhammad Ali, who referred to himself as the greatest on a regular basis, admits that "Sugar" Ray is the #1 pound for pound boxer in history.
–> Is Bernard Hopkins the true "GOAT" after his history making performance over Jean Pascal?
In the 1970s and 80s a new "Sugar" emerged. Ray Charles Leonard was a teenager when he was dubbed "Sugar".  An Olympic coach, after watching him perform in the ring, commented "That kid you got is sweet as sugar!" It didn't hurt that his first name was Ray and therefore would make for swift transfer from one Sugar Ray to another. Sugar Ray Leonard had some of the most memorable bouts in history. Like the previous "Sugar", he fought top fighters in their prime, many future Hall of Famers, and while he was not always victorious, he beat most that he faced.  His fights against Marvin Hagler, Thomas Hearns and Roberto Duran are amongst the top fights of the 1980s, and he largely defined his generation. He had several retirements and comebacks before finally retiring in 1997 with a record of 36-3 with 25 knockouts.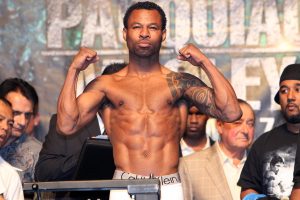 Since 1993, the moniker of "Sugar" has belonged solely to Shane Mosley. Shane has had a distinguished career with victories over some of the biggest names of his generation, including Oscar De La Hoya, Ricardo Mayorga and Antonio Margarito. In the early 2000s, Shane too had a run as the #1 pound for pound fighter in the world. He lost that distinction after back to back losses to the late Vernon Forrest. In the later years of his career, Shane rejuvenated himself and continued to fight the best of the best in the sport.
He faced off against Floyd Mayweather in 2010, and after hurting Floyd early in the fight Shane faded and was soundly defeated on the scorecards.  A year later, he faced the Filipino sensation Manny Pacquiao. Despite being the larger man, Shane was floored by Pacquiao early on and seemed content to just survive the remainder of the 12 rounds losing a unanimous decision. Though not officially retired, Shane currently holds a record of 46-7 with 39 knockouts.
While a nickname alone cannot guarantee success in boxing, it can be an important component. At the moment, the "Sugar" title is still associated with Shane Mosley. However, Mosley is clearly in the twilight of his career, and in fact, retirement may be his best option today. No one knows which fighter in the future might attach himself to that name, but this much is a lock; that fighter will undoubtedly be compared to those that have carried the moniker before him. Until that time the boxing fans and press will anticipate whom the "Sugar" will be passed to.