Does Floyd Mayweather Deserve to Reclaim Number 1 Pound for Pound?
Following Manny Pacquiao's disputed Majority Decision win over Juan Manuel Marquez on November 12, one of the first thoughts that came to mind for me was the latest pound for pound rankings. Many people are reluctant to shift around the fighters at the very top of the list unless they explicitly lose a contest. However, stubbornly maintaining order without the evidence to back up that claim does nothing but give a false impression about the current landscape of the sport.
Given that, and after each man's most recent performance in the ring, does Floyd Mayweather deserve to be back at the number 1 pound for pound slot, ahead of Manny Pacquiao?
—-> View the latest top 20 pound for pound rankings from ProBoxing-Fans.com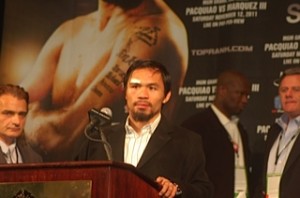 Pound for pound lists are supposed to reflect several different things. They are supposed to reflect beliefs about who the best fighters in the world are, regardless of weight. If everyone was the same size, who would be considered best, and who might win a fight.
Next, they reflect accomplishments. A dazzling prospect might look to all the world like he's destined to be the king of the sport, but it has to be proven out in the ring. Even promising young champions will need multiple title wins and defenses and so forth before gaining real traction on any list.
Finally, pound for pound lists have to reflect recent performances, and how a fighter is looking right at this very moment. Once somebody has reached a certain status through accomplishment, they still need to retain that status with their current performances.
From the above criteria, I believe that Floyd Mayweather deserves to be number 1 pound for pound in boxing, today. That could change after the next fight for either man, or hell, it could change with a sensational win over the right opponent by somebody like Sergio Martinez or Nonito Donaire.
The bottom line for me is this, we just saw Pacquiao be pushed to the brink. The majority of neutral observers seem to think that Marquez won the third fight, as the majority of neutral observers seemed to think that Marquez won the second fight. For what it's worth, I thought Marquez won the second, but I scored last Saturday's battle a draw.
Styles make fights and triangle theories aren't worth much in boxing, but we saw Mayweather dismantle Marquez, essentially shutting him out, two years ago. That was in Mayweather's return from his self-imposed hiatus or temporary retirement from boxing. Before he retired, Mayweather was the number 1 pound for pound fighter in the world.
Mayweather dominated Marquez, dominated Shane Mosley, and knocked out Victor Ortiz this September. Ortiz was the best available challenger at welterweight for Mayweather to fight.
In Pacquiao's last two fights, he arguably should have lost against Marquez, and he beat Shane Mosley much in the same way that Mayweather did previously. Prior to that, he fought a comebacking cheater in "Manos de Plaster" Margarito, a fringe top 10 guy in Joshua Clottey, and Miguel Cotto. Against Cotto he earned one of the best wins of his career, and what probably amounts to the most impressive win either of these two fighters have had in this portion of their careers.
Still, this is a what have you done lately world. Lately, we saw Pacquiao struggle with his arch-rival, walk out of the ring irked by boos, with a flummoxed trainer in Freddie Roach and a fan base making excuses about the performance because Marquez stepped on Pacquiao's foot during the fight.
This says to me that today Floyd Mayweather is the best fighter in the world. I'd pick him to beat Pacquiao, and I think he looked better in his last performance than Pacquiao did. You don't get to keep your number 1 status by default if evidence points otherwise. Not on my list, anyway.
Of course, with Pacquiao and Mayweather, the only truly definitive way to get a sense of where each man belongs is by seeing them fight it out in the ring. It now appears though that Pacquiao's promoter, Bob Arum, is more concerned with putting together a fourth Pacquiao-Marquez fight instead of the mega-fight between the sport's two biggest stars.
He says that the boxing world deserves closure and a clear answer here. That's funny, considering that for years Arum didn't think the pairing deserved even a third fight. The closure and the clear answer that the sport of boxing deserves is between Pacquiao and Mayweather. That's it.
Comments
comments