What's Next for Amir Khan?
Of late Amir Khan has become used to seeing his words fall on deaf ears. Ranked #2 in the stacked welterweight class, he has been grasping for a shot at Floyd Mayweather for several years running, and finally has built himself into a viable candidate.
Unfortunately for the talented Bolton man, Mayweather is preoccupied stirring up the media once again with old rival Manny Pacquiao. Rival is perhaps not the correct term to use given the pair haven't yet fought, and any meeting between the two would come years too late.
Khan has suggested to the press that he feels Mayweather and Pacquiao would never fight, clearly still angling for a shot at either of boxing's biggest names. Given the history of the saga, it's not hard to envisage Khan getting his shot after another breakdown in talks between the two boxing icons.
He's been a frequent next-best choice for Mayweather, left on the outside looking in. That may be the case once again, as a rematch with Miguel Cotto seems to be Mayweather's plan B. Therefore, Khan may actually be more likely to land a date against Pacquiao.
Khan would be an underdog for a fight with either man, but a live one. However, let's consider for a moment that Mayweather and Pacquiao are about to fulfill the dreams of a generation by agreeing to a long-overdue fight. What in the world does Khan do now? Here are the top 3 fights for Amir Khan.
Kell Brook: The domestic superfight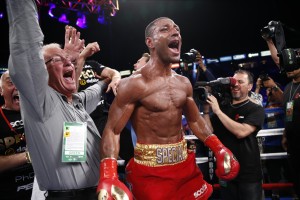 Khan has been involved in a war of words with Brook for years now. The two are seemingly on a collision course, and this would be the next best option for Khan should a fight with Mayweather or Pacquiao not immediately materialize.
Brook has power, accuracy and timing, making him a real threat for Khan. Likewise, Khan's speed and volume would provide Brook serious food for thought. Either way, it's an exciting clash and a domestic UK grudge match. However, Brook has his first fight back since the stabbing already on the docket, putting a Khan vs. Brook fight off until at least the summer.
Juan Manuel Marquez: The other icon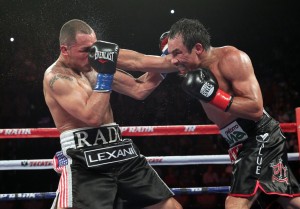 The legendary Mexican may be on the wrong side of 40 but he still retains incredible hand speed and punch-picking capability, as evidenced by his one-sided victory over Mike Alvarado in 2014. Admittedly Marquez is past his best, but he is still dangerous.
The selling point for Khan here is that in fighting Marquez he would effectively be fighting the 'third man' in the modern legend hierarchy, where Marquez stands behind Mayweather and Pacquiao. Beating the Mexican would hence elevate Khan's 147 lb resume.
Marcos Maidana: The improved Argentine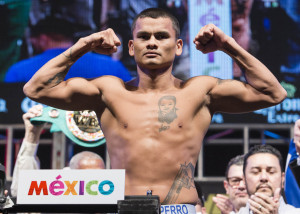 Khan has met Maidana before, surviving a late-round scare and beating him in 2010, but the Argentine is an improved force now. After that close points defeat 'El Chino' beat the veteran Erik Morales and a host of game fringe-contenders before becoming a fan favorite with a beatdown of boxing's then-bright young thing Adrien Broner.
That last win led him to a fight with Floyd Mayweather, at the expense of Khan's hopes of fighting 'The Money Man', and he managed to parlay that performance into a rematch. Fighting Maidana again is a risk given his punching power, but it would entertain the masses and allow for comparisons between Khan and Mayweather's handling of Maidana over two fights.
Comments
comments