Bika Steps in for a Title Shot Against Ward, but Super Six Not up For Grabs
On November 27th, WBA Super Middleweight champ Andre Ward will defend his title against tough contender Sakio Bika. Ward will look to be impressive in front of his fans, but he could have a rough night, especially if Bika decides to fight dirty.
Ward vs. Bika Preview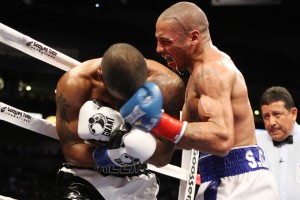 WBA champ Andre Ward is 22-0 with 13 knockouts. Ward's fight against Bika does not count toward the Super Six, where Ward has already earned a spot in the semifinals. Ward was supposed to fight good friend Andre Dirrell in his final fight of the first part of the tournament, but Dirrell pulled out of the tournament citing a neurological issue. Many people believe the fight was never going to happen to begin with. Nevertheless, Ward will defend his title against Bika.
A 2004 Olympic gold medalist, Ward has been touted as a potential star for many years. Ward had some rough spots early in his career, but has matured as a fighter. In his first fight in the Super Six, Ward beat Mikkel Kessler in a stunning performance. That fight launched Ward to the top of the division and Ward is now considered one of the best in the world.
His last fight was a win over Allan Green, who was replacing Jermain Taylor in the Super Six. Ward has good speed, even though I believe it's just a notch under elite. Ward isn't a big puncher, but lands crisp, hard shots, and he definitely has the ability to hurt guys. Ward's chin has held up well as he has stepped up in competition. Edison Miranda, a big puncher, put up little resistance against Ward. Allan Green landed a few good shots on Ward, but it didn't bother him. Kessler is a good puncher too and Ward shook off most of his punches. Ward is not afraid to mix it up. He has become a very good inside fighter.
The tough, borderline dirty, Cameroonian Bika is 28-4-2 with 19 knockouts. In Bika's last fight, against France's Jean Paul Mendy, a title shot against Lucian Bute (who has already beat Bika) was up for grabs. Bika was probably going to knock out Mendy, but he ended up being disqualified after he knocked Mendy down and hit him while he was on his knees. Had Bika not gotten another chance, that night would have haunted him forever. Bika is also known for winning the 3rd season of The Contender and also for losing to long-time division king Joe Calzaghe.
Bika is awkward and when he loses his rhythm, he becomes totally ineffective. When he loses his composure he can also be very wild. Additionally, he gets too excited sometimes when he smells blood and punches himself out. Nonetheless, Bika has very good power and is a threat to do damage at all times if his punches connect cleanly, and he also has a very good chin, and great heart.
In any Bika fight there is always a chance of fireworks and this fight should be no different. The big question is will Ward become undisciplined and revert back to bad habits he seems to have outgrown? I don't think so. Ward seems to be a very focused and determined guy. He knows that he is on the cusp of greatness and he's not going to let Bika ruin his plans, and he knows he can't get careless because Bika can hurt him.
Bika should look to apply pressure. His best chance in the fight may be to get inside and land some uppercuts and hard body shots instead of creating distance and trying to load up and land a monster shot. I expect Ward to have the edge either way. If Bika comes inside, Ward can handle the pressure. If Bika fights on the outside looking to land something big, Ward will just counter him. The X factor is if things get nasty.
Ward vs. Bika Prediction
This could be a very good, entertaining fight. I have a feeling that if Bika doesn't have success early, things could start to get rough. There may be some low blows, head-butts, and possibly cuts. The bottom line is that no matter how rough this fight gets, Ward will find a way. I expect Ward to win by decision.