Boxing is about big fights, and while the biggest fight of them all seems to have been officially crushed when Manny Pacquiao was leveled by one vicious, pinpoint punch from Juan Manuel Marquez in their fourth encounter, we have some rumors and news on other big fights potentially coming our way in 2013. Neither one is exactly a shock, and neither is a done deal as of yet, but both seem to be on the forefront right now.
So while some sports fans may be focused on how to bet on the Super Bowl, and boxing may never see its own "Super Bowl", for the time-being we'll have to settle for these intriguing fights from the two biggest stars in the game.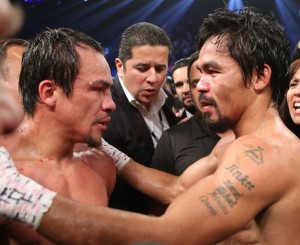 First, it looks like Pacquiao and Marquez could be fighting for a fifth time. Promoter Bob Arum has stated his inclinations on making this fight already, and he's said that it could be what's next for both men. It's not a surprising move, and surely Pacquiao wants to get back in there with his rival.
However, after that kind of knockout loss, I'm not sure why he would rush to do that, and wouldn't want to take a different bout in the interim to get back to his winning ways and ensure a complete recovery from the kayo heard 'round the world.
As for Floyd Mayweather, it looks like he's leaning towards a May 4th fight against Robert Guerrero. Guerrero's team has long been clamoring for a fight against Money Mayweather, but now they're actually in a place where they can fully say they deserve it.
Guerrero is coming off a career best win over Andre Berto in a high profile welterweight fight. He's currently rated number 11 pound for pound, and number 3 in the welterweight division, behind only Mayweather and Marquez.
The winner of the Mayweather vs. Guerrero clash would then likely be set up for a September showdown against Saul "Canelo" Alvarez over Mexican Independence Day weekend.
The winner of Pacquiao vs. Marquez V? Well, as far as we can tell they'll just keep on fighting each other.
Comments
comments