Over the past three or four months, we have published dozens upon dozens of stories and boxing news updates on the Manny Pacquiao vs. Timothy Bradley fight. With the big match finally here, we have created this mega-preview for you, with everything you need to know or want to see about Pacquiao vs. Bradley all in one spot. Consider this your Pacquiao-Bradley one stop pre-fight shop, as you'll find access to all of our best and biggest columns, exclusive features, video and photo collections, predictions and so much more right here.
—-> Of course, after checking our all of our coverage below, don't forget to come back on Saturday night to view our continuously updated, live Pacquiao vs. Bradley results!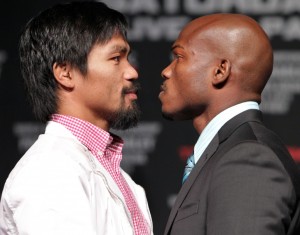 Feature Stories, Exclusives, Previews & Predictions
More Columns
Photo & Video Collections, Press Conferences, Workouts & More
Pacquiao vs. Bradley 24/7 Coverage
Alright, so there's clearly plenty to sort through there! Take your time and begin catching up, or looking back at your favorite stories along the way, right here at our home base and mega-preview for the big fight.
Comments
comments