Adrien Broner Fight Cancelled Day Of, Fighter Reportedly Arrested & Extradited to Ohio:
The bad news just keeps on coming for Adrien Broner. After it was revealed that Broner had warrants out for his arrest in relation to an alleged gunpoint robbery outside of a Cincinnati bowling alley, his fight against Ashley Theophane, scheduled for April 1st (tonight) in Washington, D.C. seemed to be up in the air.
The promotional team was quick to say that the fight would go on as planned. Yet, the weigh-in was moved to a new location at the last minute, and meanwhile, rumors circulated that Broner wouldn't even get his license to fight from the D.C. commission. Those concerns were alleviated on Thursday morning, and while the math still seems fuzzy on how that came to be, D.C. decided that Broner turning himself in after the fights was good enough for them.
But apparently, it wasn't good enough for Floyd Mayweather. And we stress — this is an as of yet unconfirmed report, but from what we've heard on the ground on in D.C., Broner was arrested at his hotel early Friday morning [at 6:47am Eastern] and the guy that did the deed so to speak, or whose interests were represented here, was Mayweather.
The link between Mayweather and Broner is well known. Broner was a Mayweather protege as he came into the national spotlight, and was a flag-carrying member of The Money Team. The relationship strained, seeming to stem from Broner's failures in the ring, as well his actions outside of the ring. The roles shifted from mentor and protege, to scolder and problem child, and the relationship was further strained as a result.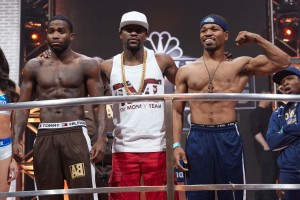 In the lead-up to this planned fight against Theophane, matters turned ugly, with insults being spewed both openly and behind closed doors. Broner isn't one to hold his tongue, and he launched a series of tirades against Mayweather, Mayweather Promotions, The Money Team, and all the rest.
Apparently somebody from Mayweather's camp decided to take action. Broner's arrest warrants were extraditable to Ohio from D.C., but police needed a call to action. They literally received such a call in the late hours of Thursday night to early Friday morning [at roughly 2am Eastern].
An unnamed source — with alleged ties to Mayweather — phoned in Broner's exact whereabouts, including hotel and room number at hotel, and details of his outstanding warrants, to a D.C. precinct. The police who were called took matters into their own hands, opting to bypass the commission and the seemingly laissez-faire attitude of the rest of the department in relation to Broner's legal status, hosting a low profile raid and arrest at the hotel.
The best current athlete that serves as a comparison to Broner is Johnny Manziel. Two people in the spotlight with plenty of natural talent who just can't keep themselves out of trouble, who seem to be asking for it. Both seem intent on hitting rock bottom, and Broner is one big step closer now.
With the arrest and the cancellation of his fight against Theophane, Broner will surely be stripped of his alphabet title. More pressing though is the matter of jail time, and how much he could be facing, if at all.
It's a sad day for the boxing community, and also for D.C. fight fans, who have been working hard to establish the city as a go-to destination for more events, only to see this one scuttled at the last possible second.
If you made it this far, and it wasn't already clear…
APRIL FOOL's
We play a prank every year folks, and we like to keep it based on current events so this was a logical choice .

Hope you all thought it was in good fun! If not — sorry! The top of the page did have the story posted under "Memes & Jokes"!